Tackle inequality in your workplace: Stand up against these common gender biases
Unconscious or not, gender bias often presents an insurmountable obstacle for women in procurement. We are progressing, but there's still work to be done.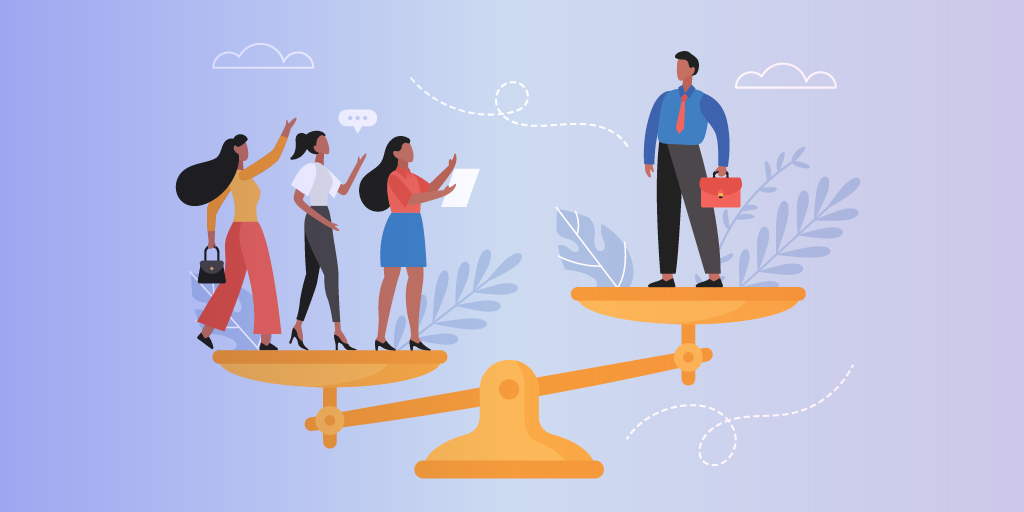 Change starts with the realisation that there is a problem. Gender bias isn't easy to spot; it can take many forms and exist without your knowledge. Conversely, gender equality is elusive, having escaped the grasp of our world for too long.
But we're not talking about our world, we're talking about your world, and what you want it to be.
What is gender bias?
Gender bias is the tendency to treat or favour, either knowingly or unknowingly, one gender differently than the other. These biases can lead to favouritism of one gender, or mistreatment, exclusion, and denial of the other.
It can exist anywhere; chances are, it exists within your boardroom, workplace, and community. It may appear as pay disparity, a lack of supplier diversity, a lack of executive representation, different performance standards for men and women, and more.
Let's examine how gender bias can lead to double standards in the boardroom.
Structural inequality
Boardroom and C-suite representation often reflects the whole organisation. A boardroom that promotes (or overlooks) double standards also undermines gender diversity, equity, and inclusion (DEI) within its organisation.
A common double standard in the boardroom is that women do not have the time to dedicate to networking. That's because women are expected to do at least 2.5x more unpaid care and domestic work compared to male counterparts, while also keeping pace with men in the boardroom – leaving little time to network without a significant sacrifice. It comes down to an impact on their bank account, or their home life. A decision nobody wants to make.
Gender pay equality needs to be a focus for every organisation, profession and country. According to CIPS and Hays Procurement Salary Guide 2022, the average pay gap across regions is 16%, with certain regions reaching as high as 28%. The gap grows in more senior positions and the boardroom as well.
While there are signs of progress – overall, the gender gap has closed compared to 2021 – it's premature to celebrate. Now is the time to use your power to negotiate and fight back, and improve the gender pay bias in your world.
Supplier diversity
According to Kearney, there are around 224 million women entrepreneurs that own 35% of firms worldwide, yet enterprises spend less than 1% with women-owned businesses. The business community should do much better.
Supplier diversity programs provide benefits beyond a better ethical code; they've been proven to deliver commercial value as well, according to Harvard Business Review. They increase competition among potential suppliers, which can drive product innovation and quality, and drive down costs.
They can also benefit profitability. Thirty-four percent of companies that engage women-owned suppliers reported a positive impact on profitability, according to the same Kearney study as above.
Boardrooms, C-suites and leaders often partner with like minded vendors. With an incredible lack of executive representation, it's no surprise that supplier diversity remains an issue. It may benefit male-dominated boardrooms to partner with diverse suppliers to glimpse what DEI looks like in their executive and board level teams.
Executive representation
Gender bias can find you wherever you are; whether you are beginning your career, climbing the ladder, or are at the top. According to Gartner, women represent 41% of the supply chain workforce, but only 14% of supply chain executive positions. The lack of representation means that younger and less-experienced women in procurement have fewer role models to look up to and fewer mentors to support them.
Mentorship plays a major role in finding support for continued professional success and fulfilment. More than 40% of workers without a mentor claim they have considered leaving their job in the past three months, while over 90% who have a mentor are satisfied with their job.
A lack of female mentorship means there are fewer outlets for women to share their achievements and struggles. It can leave them feeling alone and unmotivated, and lead to more women leaving procurement.
Performance biases
According to a McKinsey study, which engaged leaders from business, government, and academic organisations, companies often have performance models such as work "anytime, anywhere." These models disadvantage women compared to men due to the "double-burden" as McKinsey calls it, where women also bear the brunt of housework, which disadvantages them.
Twenty-nine percent more respondents (80% vs. 62%) felt that working dads are compatible with a top-level career compared to working moms. Women are disadvantaged from the start, receiving fewer impactful opportunities to showcase their knowledge and talent compared to men in similar positions.
Other gender biases that women in procurement may be experiencing include:
What are the results of fighting gender bias?
The positive outcomes of creating gender equality in the workplace are almost infinite, while the negative outcomes feel non-existent.
Here are some key outcomes that you gain when you remove gender bias from your workplace:
The results speak for themselves. But just in case you need to hear someone actually speak the results, our BRAVO participants have some real-world experience witnessing the results.
What can we do to combat gender bias?
Women are not afforded the same opportunity as men to learn, grow, and advance in their careers. But we can help.
Our BRAVO program offers women in procurement – as well as their organisations – the opportunity to empower themselves to collaborate and create a culture of belonging by giving attendees the tools to harness a supportive environment that fosters fairness and inclusion where everybody can thrive.
Mentoring programs, masterclasses, networking opportunities, and world-class speakers will help you and your organisation chart a path forward as you look to combat the injustices presented by workplace gender biases.
BRAVO – The Event is fast approaching and it will offer all participants information, tools, pathways, and connections to help advance your careers and combat gender bias in the workplace.
The event brings together some of the best speakers and leaders in the world for three regional 2.5-hour events.
At the end of the event, you will be filled with inspiration and guidance for taking key, transformational steps to advance your career and reach your full potential while working to create a stronger and more diverse profession through greater empowerment and inclusion of women from all backgrounds. The change in your world starts today.
Find more Women In Procurement & Supply Chain news, insights, and best practises at Procurious.com.
---
Read more at Procurious: