Sustainability Project of the Year Winner
Congratulations to The Australian Universities Procurement Network (AUPN) Modern Slavery Project – winners of the inaugural Sustainability Project of the Year Award, sponsored by ExceleratedS2P, at The Faculty Awards of Excellence and CPO Forum Gala Dinner at Crown, Melbourne on Wednesday 1 June 2022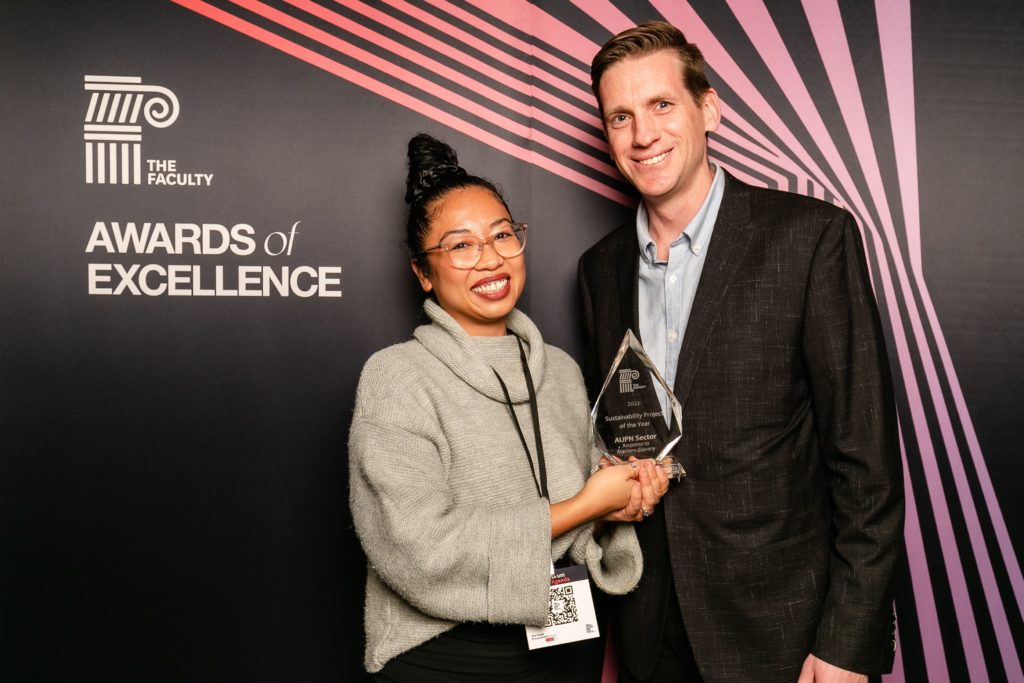 Nina Paleracio and Paul Holland of the University of Melbourne accepting the Sustainability Project of the Year award, presented by ExceleratedS2P, at the 2022 Faculty Awards of Excellence Gala Dinner
---
The Australian Universities Procurement Network (AUPN) Modern Slavery project has been awarded the Sustainability Project of the Year Award at The Faculty Awards of Excellence and CPO Forum Gala Dinner at Crown, Melbourne on Wednesday 1 June 2022.
The winning project, AUPN Sector Response to Modern Slavery (MS), was nominated by the Chair of AUPN – Paul Holland from Melbourne University who said, "Modern slavery is a complex issue that requires organisations to work together and remove the darkness that surrounds slavery. Working as a sector, we will drive benefits for both universities and our supply base to create meaningful change."
The project was sponsored and led by the Co-Chairs of the AUPN MS Working Group – Rhiannon Jones from Swinburne University & Paul Holland From Melbourne University. The MS program was managed by Nina Paleracio, AUPN MS Project Manager from University of Melbourne, who lead the three-year program of work to develop, design and build a sector response to modern slavery. Nina was supported by a working group made up of members from the University sector including critical contributions from Darren Murphy (University of South Australia), David Paterson (Flinders University ), and Richard Ellis (Monash University).
The judging panel was impressed by the approach the network took to achieving their goals, including:
Establishing a MS working group, academic advisory group and supply advisory group and agreeing to work as one, sharing data and resources
Achieving the milestone of having 35 universities sign up to the program and agreeing to provide finance to fund the project
Deployment of a technology solution across the sector providing one point of reference for modern slavery for the University sector, with over $25 billion of supplier spend represented in the tool across 140,000 suppliers.
Sustainability Project of the Year Award sponsor, Joe Ballofiaore, Regional General Manager at excelerateds2p, said, "Now more than ever, procurement are walking hand-in-hand as trusted advisors to the businesses C-suite executives, helping enterprises navigate through some of he most challenging and complex issues impacting us all in this modern economy, it's important we reflect and acknowledge the outstanding contributions the procurement profession is making."
Further developing the solution is going to be a critical next phase for the program. Once the system is being used efficiently by the network's 35 universities, they will develop plans to start working with high risk suppliers to further investigate their assessments with regards to modern slavery risks.
Sustainability Project of the Year
The Sustainability Project of the Year award is given to an organisation or team that has made a remarkable and measurable impact on the world or a local community by improving procurement and supply chain sustainability outcomes. The winner is a shining example of the power that procurement and supply chain teams have to enact positive and exponential change. The sustainability projects and results nominated should align with one or more of the United Nations 17 Sustainable Development Goals (SDGs).
The Judging Process
Nominees are assessed against The Faculty's X Factor Procurement Leadership Framework which is based on a demonstration of strength and balance across four key areas – Functional Excellence, Leadership Attributes, Commercial Leadership and People Leadership.
Judges
Michelle Evans, Director, Dilin Duwa Centre for Indigenous Business Leadership
Darren Peiris, Talent & Capabilities Development – International, The Kraft Heinz Company
Johanna Anderson, Director of Learning & Member Engagement, Sustainable Purchasing Leadership Council
Leigh Petschel, Chief Financial Officer, Monash University
About The Faculty
The Faculty is Asia Pacific's leading Procurement advocate, highlighting the integral role of Procurement in protecting margins, brand and growth for over twenty years. Through professional development and creating knowledge networks for CPOs to share best practice learnings, The Faculty helps businesses accelerate and optimise their procurement investment.
About AUPN
The AUPN currently has 38 member institutions working together to improve excellence in procurement practice and the skills of procurement professionals in the higher education sector.​
Our Vision is to transform the universities' capability into a world class standard of professional procurement.​ AUPN aims to significantly improve strategic procurement practices at Australian & New Zealand universities through a collaborative approach, focusing on sharing expertise and business intelligence, promoting the benefits of aggregated purchasing, greater efficiency in process, professional procurement education opportunities and encouraging the development of professions networks across all Universities.​
Sponsored by ExceleratedS2P