The Surprising Sand Shortage Crimping Global Supply Chains
A surprising shortage of the right type of sand is crimping glass production, and shattering the beverage and pharma supply chain.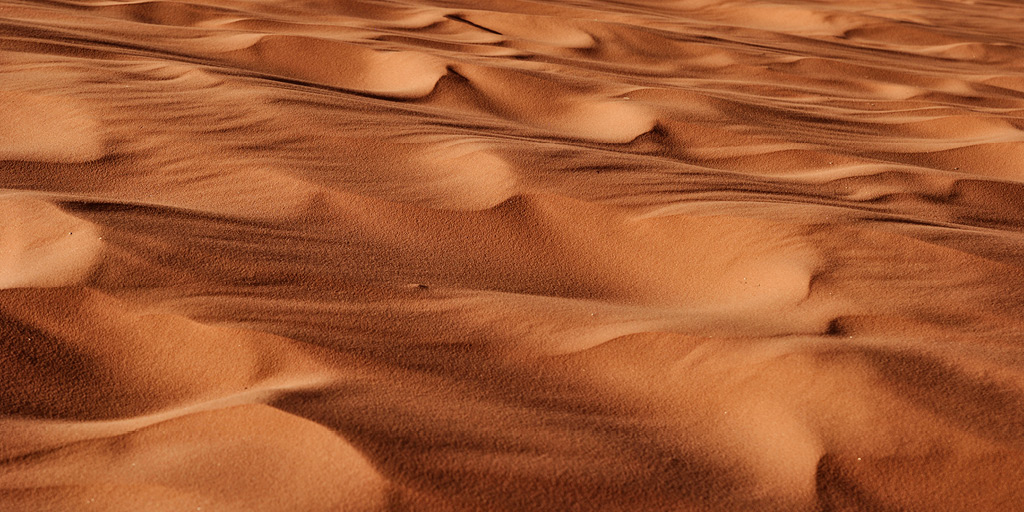 Add sand to the list of surprising shortages due to the pandemic, along with toilet paper and coffee. But a shortage of may have a more significant impact than it might seem at first.
Sand, one of the most ubiquitous commodities on the planet, is a vital ingredient in glass. But only certain types of sand are suitable for creating glass used in liquor bottles and vials for pharmaceuticals. Various types of sand are also used to make glass, concrete, asphalt and even silicon microchips.
A shortage? Then why not just open glass factories in the Sahara Desert? Well, we can blame Science for that one. Sculpted by the wind, and thus too smooth and round to lock together to form glass or concrete, the seemingly plentiful desert sand is the wrong shape and largely useless for most purposes.
Instead, glass and concrete are made with angular sand that knits together under heat and pressure. It's most often found in riverbanks, flood plains, lakes and the seashore. More than 50 billion tonnes of sand are extracted each year, often with significant environmental and social impact. There's just not enough angular sand in easily accessible places to keep up with demand.
According to the BBC, the sand situation has contributed to a global shortage of glass since at least 2015. As an on-going issue, this could mean a severe impact on the availability of wine and bourbon, as well as any future COVID vaccines.
Supply Chain Impacts the Brand
Pharmaceutical companies are being forced to rethink the packaging for vaccines and other medical products usually shipped in glass vials.
For liquor brands, however, it's not as easy as just switching to whatever bottles are available. The bottle and packaging are a significant part of the brand experience. Think of the green tint of a Tanqueray gin bottle or the deep blue hue of the Skyy vodka brand – you'd know what was inside the bottle even without a label.
Demand for glass bottles shot up during the pandemic, as people turned to home delivery of alcohol rather than consuming libations at their favorite pub or restaurant. The Glass Packaging Institute reported that spending on alcohol in 2021 increased 13 percent for wine and 14 percent for spirits compared to 2020. To keep pace, U.S. production of spirits bottles was up about 3 percent year on year in 2021, while imports of 750ml bottles for wines and spirits were up 14 percent.
Some glass product users can switch suppliers, but many cannot find new sources without seriously impacting their operations or market position. Some distillers and vintners have had to store their product in tanks, waiting on bottles to arrive. The weather governs production cycles in wineries as the grapes ripen on the vine. If the downstream production isn't ready for bottling, the winery could very well lose its product. A premium wine demands a premium bottle, and they're not available just anywhere.
Changing bottle sizes can also mean changing case sizes, impacting material handling and shipping. This could mean changing the number of cases on a pallet or aligning with automated material handling equipment.
Reducing Reliance
A few companies have taken steps to reduce their reliance on glass. For example, Snapple Beverage Corporation switched from glass bottles to 100% recycled plastic bottles that use 80% less packaging material.
Others have gone to extraordinary lengths to preserve their brand image. Castle & Key Distillery planned to debut a new small-batch rye whiskey, but ocean shipping delays meant the bottles wouldn't make the trip from France to Kentucky in time. Instead, co-founder Wes Murry shipped the first 20,000 bottles by air freight to ensure the product was launched on time.
In response to the pandemic, some glass production was diverted to make vials for COVID vaccines. Pharma companies have shifted to multi-dose vials instead of a single dose, but the demand for billions of vials far outstrips supply. Only three companies manufacture most of the pharmaceutical glass tubing needed for vials and syringes: Corning, Schott and Nipro Pharma Corporation.
The Unseen Issues
The demand for construction sand is so high that criminal gangs fight over sandy locations and storage depots. Some shady companies vacuum sand from beaches and riverbeds, undermining nearby building foundations and destroying marine habitats. Because sand is such a common commodity, monitoring the supply chain could be a nightmare for companies tracking ethical sourcing.
One of the lessons for procurement and supply chain professionals is the fragility of lean and just-in-time manufacturing philosophies. Learn the hard lesson as your organisation reconfigures its supply chain for the new normal. When supply is plentiful, just-in-time works well. But when supplies are constrained, the lean system may stretch until it snaps.
There are significant downstream impacts when one link in the chain, such as bottle production, is weakened. A lean philosophy sees inventory as waste, but if a production line is shut down because glass bottles aren't available, the inventory cost is small compared to the loss of revenue.
It's worth carrying some inventory of critical components during normal times to prepare for times of crisis. But in order to do this effectively, you need to know everything in your supply chain and understand its potential impact. Even when it's a little surprising!