Politics and power games at the heart of semiconductor shortage
We already know that huge demand and no supply has led to global microchip and semiconductor shortages – now an already complex sourcing challenge looks set to get more complicated as two of the world's superpowers go into battle over the supply of microchips and semiconductors.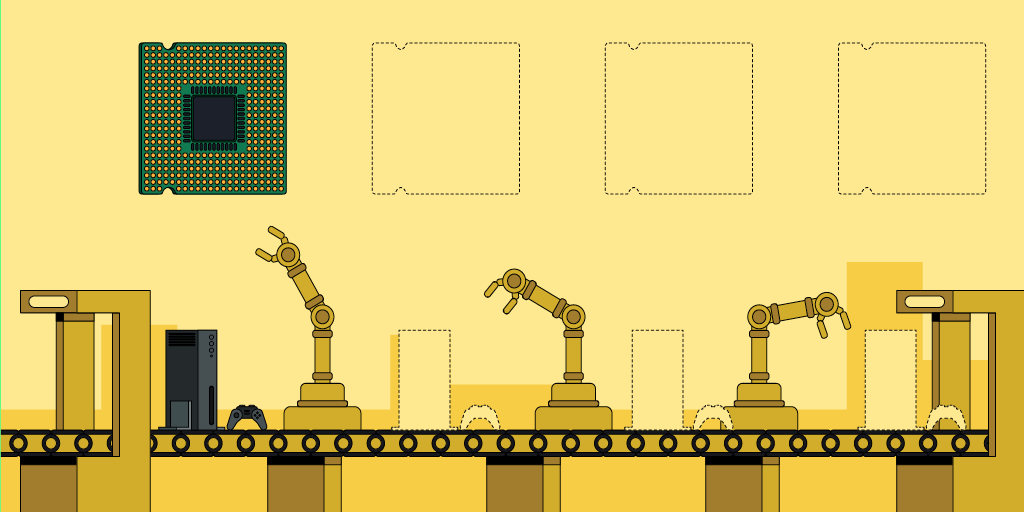 If you personally or professionally haven't been impacted by the shortage of semiconductors in the past few years, then you are in a very lucky minority.
It's an issue that will, ultimately, impact just about everyone around the world. Looking to buy a new car? Sorry, you're going to wait for at least a year for most models. Shopping for electronics or games consoles for Christmas? You'll need to join the end of a very long line.
Production of anything that contains microchips or semiconductors has been massively disrupted in recent years. The onset of the pandemic created a perfect storm in the chip and semiconductor market. It started with a huge increase in demand as people started to work from home and spent more money on electronics. Demand pressures then increased thanks to an increased requirement for new medical equipment and organisations ordering to cover demand as the world opened up again.
However, at the same time, manufacturing organisations were struggling to keep up with the demand due to – amongst other things – lockdowns, workforce absence, and disruption and bottlenecks in supply chains and logistics.
It was a situation that no-one could have predicted, but thought would improve in 2022. Then came the Russian invasion of Ukraine, and the supply chain situation deteriorated further.
Now, as companies plan for purchasing and supply decisions for 2023, two global superpowers look set to go toe-to-toe in a straight fight for global market dominance. And procurement may find itself caught in the middle as it tries to meet their own customers' demands.
The eagle and the dragon of semiconductor procurement
Already two of the largest producers of semiconductors and microchips in the world, the USA and China are making moves to meet new demand levels. In recent weeks it has been announced that both countries are planning to invest billions of dollars and yuan to vastly increase their domestic production capacity.
Over the past decade, and in spite of accounting for nearly half of all global microchip sales, the US share of global manufacturing has dropped as low as 12 percent. Many see new investment decisions as a way of reversing this decline, which in the past has, in part, been attributed to a lack of competitiveness in costs in domestic US production.
However, even with these changes, the US is still set to lag behind its Asian competitors. For several years now, Taiwan has led the way in manufacturing, producing half of all chips and semiconductors. But China has designs on overtaking everyone by 2030 thanks to $100 billion in subsidies from the country's government. This would ensure Asia remained the global powerhouse, but with real competition again in North America.
So far, so positive, even with the caveat that it will take time for production to reach predicted levels even with major investment. But all is not rosy when you factor in the laws and regulations being put in place to govern the trade of the chips.
US regulations tighten the screw on the semiconductor shortage
The Biden administration announced measures that they argued were necessary to "protect US national security and foreign policy interests". The regulations banned the export of US semiconductor equipment, as well as increasing requirements for licences for the export of American tools and components to Chinese plants.
Any US citizen or business must ask permission from the US Department of Commerce before they can provide any support to Chinese plants, even if they are under the same company name. The regulations have already had a major impact, with major players in the market such as Lam Research and Applied Materials suspending trade in order to ensure they comply.
These regulations are already having a major impact on both large and small companies. Apple has been forced to change plans to use Chinese-made chips in the new versions of the iPhone following the announcements.
The situation provides an extra complication for organisations that straddle the political divide, such as those with links to Chinese corporations, or via Chinese ownership, who source parts globally. With US export controls leaning heavily on End User Licences, sources are being closed off if parts that contain these chips are being exported in any format into China or East Asia.
Dumping low cost expectations
In the middle of all of this sit procurement teams who are faced with decisions on how to rethink sourcing strategies in order to mitigate risks associated with microchip and semiconductor procurement. And with many industry experts estimating that production issues of these parts will continue into 2024, it's no time for short-term planning.
Recent studies have shown that the shortages of microchips and semiconductors are affecting over half of global procurement teams. Sourcing at the lowest cost is not really an option now, but a more strategic approach, where extended deals and a geographically diverse supply chain, could pay dividends.
Organisations that are willing to invest time and money building better relationships with chip suppliers directly may see benefits from this new approach. Suppliers are likely to look more favourably on procurement organisations looking to collaborate with them, rather than assume that they can drive down costs. This approach will help not only to secure supply at a good cost, but also give suppliers more security in their own forecasting.
In the end, even being stuck in the middle of a fight between two superpowers, procurement can position itself to succeed no matter the outcome. By being more strategic, planning ahead, and favouring the long-term over the low cost, procurement can go someway to help simplify an extremely challenging situation.
How is the semiconductor and microchip shortage affecting your procurement function? Let us know in the comments below.
Find more Technology news, insights, and best practises at Procurious.com.
---