Paydirt! Resources Sector Supply Chain GM Wins Prestigious Award
Hot off the press: the Asia-Pacific region's 2018 CPO of the Year and Future Leader in Procurement (FLiP) of the Year have been announced at The Faculty's Gala Dinner.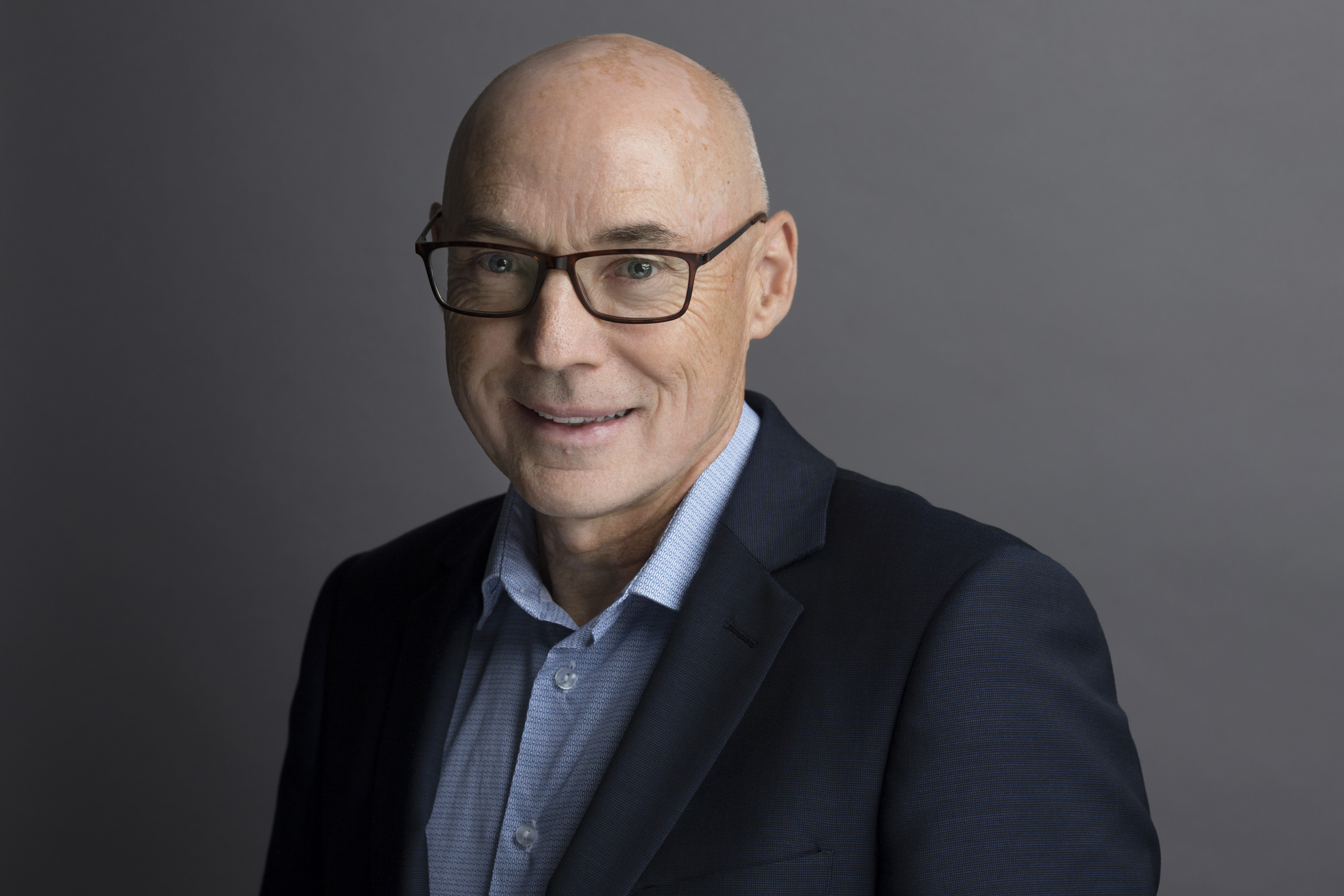 Dramatically shifting the impact of procurement in a truly international role, MMG General Manager of Supply Chain Ron Brown has been recognised for delivering major procurement and supply chain transformation, driving value creation across the organisation and consistently delivering tens of millions in savings per annum over the past four years.
Brown's achievements were celebrated at last night's CPO Forum Gala awards, hosted by leading procurement advisors The Faculty.
International role
Global resources company MMG Limited operates and develops copper, zinc and other base metals projects across Australia, the Democratic Republic of Congo, Laos and Peru. As such, Brown and his centre-led procurement team have become adept at not only working across time-zones but also in negotiating the significant language and cultural differences in the four regions. Brown himself has a full travel schedule, as he regularly visits sites across four continents in person.
Shifting the focus
Brown's commercial leadership has led the organisation to recognise that simply focusing on cost-down does not work. Instead, Brown has shifted the focus to:
Improving the skill-sets on contract management, creating commercial value over the life of the contracts and putting in place systems to ensure opportunities are not left on the table.
A greater emphasis on supplier relationships, including better engagement, more regular communication around performance to enable greater value creation.
Greg Travers, Executive General Manager Business Support, comments that Business Unit stakeholders within MMG have recognised the value that Brown and his team are delivering. "They have worked hard on improving relationships and have turned the perception of procurement around favourably. Ron and his team are getting out of the office to see the business, and spending more time on site."
Influence beyond procurement
Travers also comments that Brown is a well-rounded, commercially focussed executive who contributes more broadly across the organisation, and has presence at all levels including the executive team and the Board. "Ron is one of the General Managers the Executive Group regularly nominates to attend group meetings and get involved in projects from the very start. He is energetic and is ideal for contributing to broader organisational projects and for change and efficiency reviews."
Significant wins
Key achievements that contributed to Brown's nomination for the CPO of the Year award include the delivery of a major procurement project to support the construction of the recently completed Dugald River Mine site in Queensland (Australia). Brown and his team embedded the contract management approach to build savings, sourced long-lead items and engaged local suppliers in a logistically challenging, complex industrial environment. Brown and his team contributed to the delivery of the project significantly under budget and ahead of schedule. They also achieved multi-million-dollar savings through an electricity contract revision for Las Bambas (Peru), and enhanced global sourcing primarily through China, resulting in significant savings across a wide range of supplier inputs.
Brown and his team have also re-engineered and simplified procurement policy, process and reporting frameworks at MMG, creating a high-level dashboard to drive visibility. Site inventory has been improved through more efficient contract management, buying at better prices and strengthening supplier relationships.
People Leadership
"Ron has significantly lifted capability across his team, hired and developed the right people in procurement and supply," says Travers. "He mobilises his team and creates career pathways for them." Brown has also actively promoted gender diversity across his team.
But the CPO of the Year wasn't the only award presented at the #CPOForum18 Gala Dinner. One of procurement's rising stars, Maryam Rahimi of Sydney Trains, was also celebrated with the presentation of the Future Leader of the Year (FLiP) Award.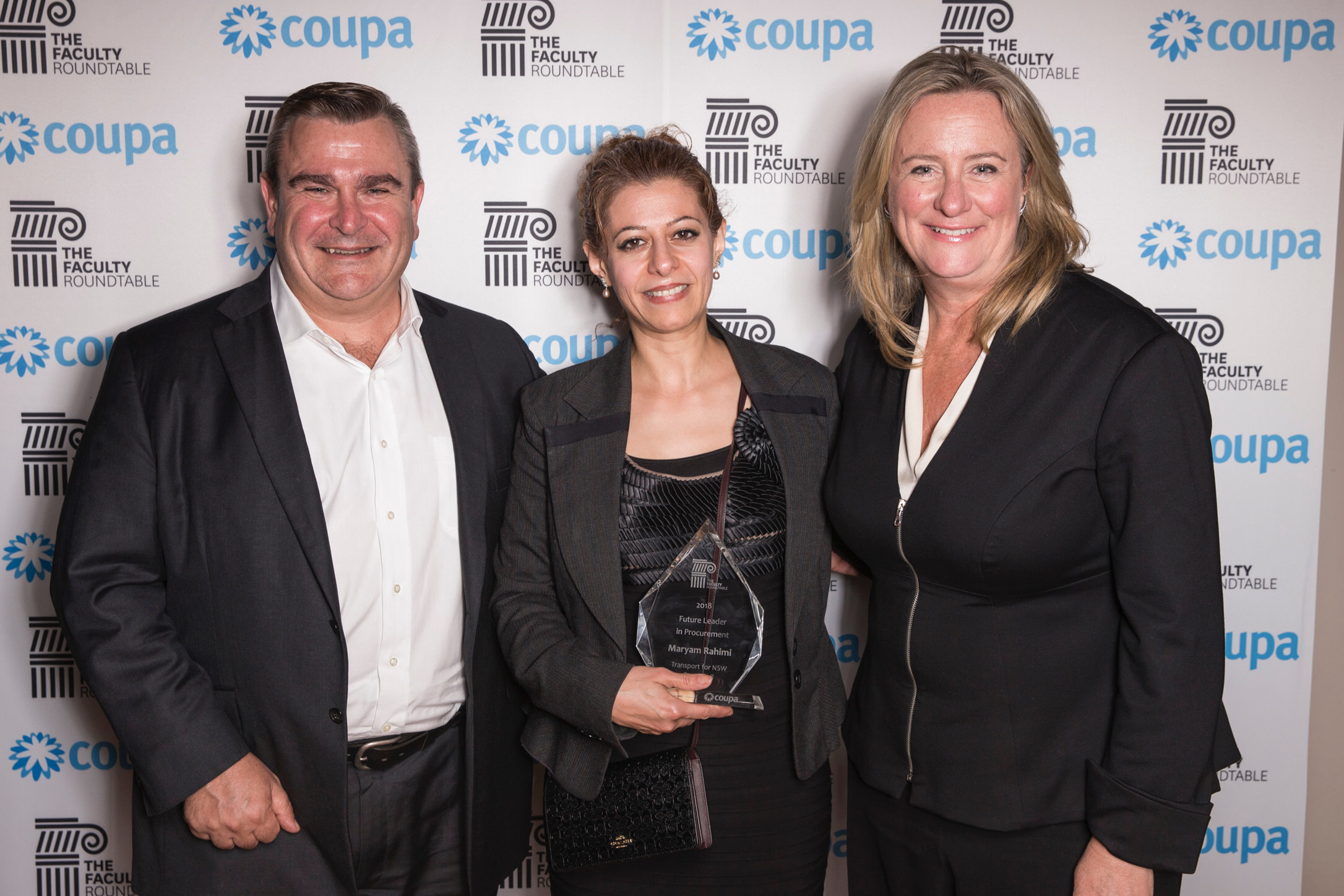 Len Blackmore, Maryam Rahimi and Tania Seary
Keith Bird, Managing Director of The Faculty, says "The CPO of the Year and Future Leader of the Year Awards not only recognise the significant achievements of these talented professionals, but they serve as an important source of inspiration for other aspiring leaders in the profession. Both Ron Brown and Maryam Rahimi are known both for delivering excellent value to their organisations, but also for their dedication to mentoring, coaching and inspiring others."
Public Sector Procurement Star Wins Future Leadership Award
It's a big week for Sydney Trains' Maryam Rahimi. Not only is the Australian public sector procurement professional stepping up to a new role where she'll be leading a team of 27 people, Rahimi was also awarded the prestigious Future Leader in Procurement (FLiP) of the Year Award for 2018 at last night's gala event in Melbourne.
Originally from Iran with an engineering and manufacturing background, Rahimi immigrated to Australia in 2010 where she entered the rail sector, first with Downer Rail and then with Sydney Trains. This week, Rahimi is moving from her role as Acting Senior Business Category Manager to Manager, Plant Hire. This leadership position with responsibilities and a team across both Sydney Trains and NSW TrainLink has greatly expanded responsibilities from her previous role – and she's 100% up for the challenge.
Len Blackmore, Deputy Executive Director of Procurement for Sydney Trains and NSW TrainLink, says that Rahimi's personal story is as impressive as her professional achievements. "Maryam is balancing the demands of a busy career whilst raising her young family, and was the sole income earner upon her arrival in Australia. She is a highly capable professional with enormous resilience."
"Resilience" is a term that comes up frequently when discussing Rahimi with Blackmore, who says one of the key markers of resilience is that fact that she proactively champions change in the organisation. "Maryam has been enthusiastically involved in the complete revamp of our Source to Contract process", he says. "This has been on top of her day-to-day role, where she's also embraced the procurement improvement program we're currently running."
But it's in stakeholder engagement where Rahimi has her most impressive wins. Upon settling in at Sydney Trains, she quickly identified an issue where stakeholders were not highly engaged with procurement. Through outstanding business partnering with a focus on the customer, Rahimi lifted stakeholder engagement and improved the perception of procurement through the establishment of trust, credibility, early engagement and taking the time to understand customers' needs.
Rahimi's commercial leadership was another key factor in her being nominated for the Award. Along with strong negotiating skills, she has a strategic focus, thinks holistically over the total life of the contract, and involves the end user in designing solutions to get results. Rahimi reportedly has a great touch in leading people and is known for her focus on working collaboratively and fostering a positive culture. She has lifted the capability of her direct reports through mentoring, coaching and inspiring others.
"I'm absolutely delighted about her winning the award because Maryam has worked extremely hard to get where she is", says Blackmore. "It gives someone who is a high performer with high potential the due recognition that will benefit her career."
---
About The CPO of the Year Award
The CPO of the Year Award is a flagship initiative of The Faculty, created in 2012 to recognise and celebrate the achievements of procurement professionals across Asia Pacific.
For the past 6 years the Award has celebrated someone who has been assessed as an outstanding leader, a prominent contributor to their business and the broader profession, leading delivery of high ROI, and exceeding performance expectations. The Award is a measure of executive presence, commercial insight, people leadership abilities, innovation, professional advocacy, technical ability and integrity.
About The Future Leader in Procurement (FLiP) Award
The Future Leader in Procurement (FLiP) Award recognises an outstanding commercially focused member of the next generation of procurement professionals who is making a demonstrable difference to business results, across different industry sectors, budgets, team size and experience. The FLiP Award will be presented to a multi-talented professional who has demonstrated leadership capabilities and is an influencer and trailblazer in their organisation. The Award is a measure of leadership potential and presence, commercial insight, stakeholder engagement, innovation, professional advocacy, technical ability and integrity.
The 2018 Judging Panel was comprised of Michael Andrew, Chair of the Board of Taxation and former Global CEO of KPMG, Helen Sawczak, National CEO of the Australia China Business Council, and Andrew Porter, CFO of Australian Foundation Investment Company and President of the Group of 100. The meeting was chaired by Tony Megally, General Manager, The Source.
The CPO of the Year and Future Leader of the Year awards were sponsored by Coupa Software.
About The Faculty
The Faculty is recognised as one of Asia-Pacific's leading procurement advisors. The team works with organisations to transform and elevate the role of procurement, build high performance commercial teams and facilitate professional knowledge networks.