Get ahead in the new year – Procurement & Supply Chain networking & learning events
Looking to take your career to the next level in the New Year – then our Procurement & Supply Chain networking & learning event guide has you sorted.
These events might make next year your best year yet!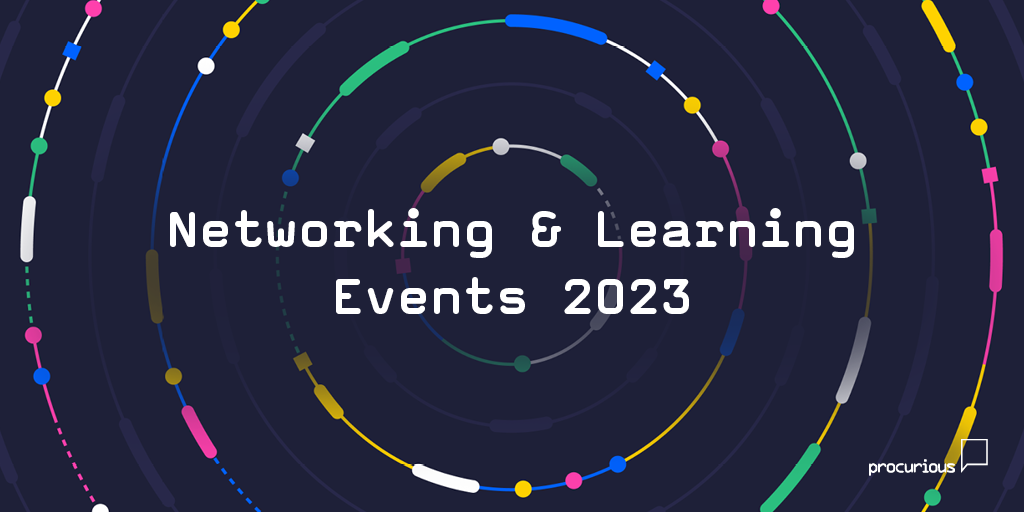 Is it that time already? It must be. 2022 is fast drawing to a close and while it's been another adventure-filled year in procurement, we've already got our sights set on a bigger and better 2023.
One thing we all loved about this year was that we could reinvigorate our networking game and get back to meeting our peers in person. Because really, there's nothing like the ability to consult your brains trust over a great coffee about your current supply chain pressures, or discover a new supplier via other leaders in your industry.
Fortunately, we're giving you even more networking opportunities in 2023 with a bigger and better events calendar than we've ever been able to offer.
Excited? So are we. And if you book now, you'll not only have something big to look forward to, but you'll enjoy an early bird discount.
Every day, procurement professionals face pressure from a number of angles. Whether you're juggling more contractors than ever, trying to contain the swell of inflation, or having to sharpen your negotiation skills, there's so much to achieve, making innovation more important than ever.
2023 is going to be the year to think big and drive lasting change.
Join us in March next year in London to learn from the best.
The Big Ideas Summit is the most innovative leadership event for our profession. Join us as we come together to share the must-have ideas, plans, experiences, and innovations that we have developed to meet the challenges of yesterday, today, and tomorrow.
When? Thursday 9 March 2023
Where? Register now to be one of the the lucky 45 people selected to attend in person at The Soho Hotel, London OR experience the full Big Ideas Summit program online.
As a leader in procurement, do you ever feel as if you're facing one supply disruption after another?
Do you feel as if you can't plan, strategise, or innovate, because you're too busy fighting fires?
Now in its 15th year, the Asia-Pacific CPO Forum is the region's premier procurement event. Held across two days, this is your chance to join your peers and hear from the most innovative and compelling speakers and cutting-edge thought leaders.
CPO Forum is your opportunity to work, play, network, collaborate, and connect with other leaders in the procurement profession.
It's time to stop drowning in issues and details – instead Ride the Wave of change and land on the shores of success. Join us at next year's CPO forum to learn how.
When? Tuesday 9 – Wednesday 10 May 2023
Where? Sofitel Sydney Wentworth, 61 Phillip St, Sydney NSW 2000
Want to be immersed in engaging masterclasses, discussions, and networking opportunities with the most talented procurement professionals from the most well-known organisations in Australia and around the globe?
If so, be part of the Faculty Roundtable Program in 2023.
The 2022 roundtable program provided a diverse range of more than 80 events and masterclasses with more than 2000 participations – who rated their experience 9.7 out of 10 overall.
Next year, the Roundtable Program is growing to feature over 90 events; including national roundtables, networking events, open training sessions, workshops, mentoring , and more– which means there are even more learning and upskilling opportunities for leaders and employees across your organisation.
With the critical theme of the 'Great Procurement Reset', next year's Roundtable Program will be unmissable.
BRAVO: WOMEN IN PROCUREMENT & SUPPLY CHAIN LEADERSHIP PROGRAM (GLOBAL)
Are you an ambitious woman in supply chain or procurement who wants 2023 to be your best year yet? If so, look no further than our BRAVO program.
Specifically tailored for the challenges (and rewards) that come with leadership in procurement, our flagship women's masterclass and mentoring program will not only provide the latest thought leadership, but will also deliver invaluable networking opportunities for 2023 and beyond.
Join us from March to December with a program for your region:
Want more Procurement and Supply Chain networking and learning events? Keep an eye on Procurious.com.