3 Inspiring Life Lessons We Can Learn From Champion Big Wave Surfer Mark Mathews
Sometimes the most inspiring life lessons come from the most extraordinary circumstances! Read how Champion Big Wave Surfer Mark Mathews keeps his head above water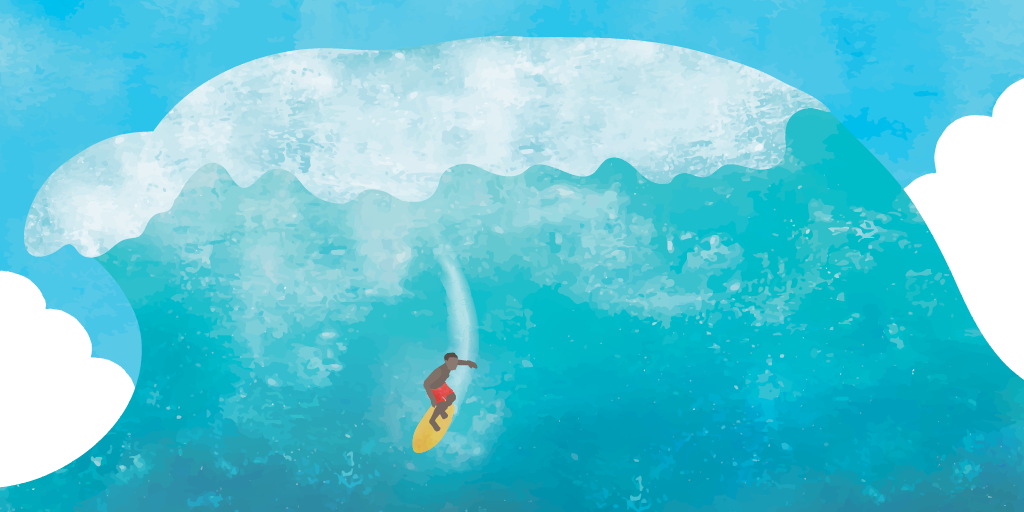 Champion Big Wave Surfer Mark Mathews has valuable advice to share on tackling the biggest obstacles
---
Anyone who has worked in procurement for any length of time (or even a short time!) knows that sometimes the profession has its challenges. From supply chain shocks to the occasional toxic boss, sometimes we simply just want to quit.
And while we all feel overwhelmed or over it sometimes, we may also recognise that we might not need to quit, but to change our mindset instead.
One person who is an expert at mindset changes, owing to the fact that he has overcome some incredible challenges of his own, is champion big wave surfer Mark Mathews.
If you haven't heard of Mark Mathews, it's high time that you get acquainted.
As one of Australia's most well-known professional big wave surfers, he has won numerous surfing competitions, as well as being awarded three Oakley Big Wave awards from surfing some of the world's most treacherous and challenging waves.
In extremely exciting news, he'll be a guest at this year's CPO Forum. But if you simply can't wait until then, here is a sneak peak into three inspiring life lessons that we can all learn from Mark:
Everyone has their low points
There's no doubt that Mark Mathews has achieved a lot in life.
As a surfer, he gets to do what he loves every single day, and he's also won nearly AUD $500,000 doing so. In addition to this, he's also starred in multiple films and documentaries, including Fighting Fear in 2011 with other big-name surfers such as Mick Fanning and Kelly Slater.
Yet despite this glittering life, Mark is quick to mention that he, too, has had some extreme low points.
One in particular came after he suffered an excruciating accident in 2016. Told that he might never surf again, Mark admits that he entered a dark period of his life. Specifically, he says:
"I couldn't even look at it [the ocean]".
Facing your fear is important
From a physical perspective, there are certainly less risks inherent in working in procurement than there are out surfing some of the world's biggest waves. But this doesn't mean that we don't all have fears to confront every single day.
For example, you might be suffering a particularly harrowing bout of imposter syndrome, or your manager might be a genuine psychopath.
Whatever your issue at work, it's often not possible to run away from it. If that's the case, Mark says, the best thing to do is face your fears head on.
Fear, he says, is all in your head, so you have to learn to ignore the feelings that make you want to run, and learn that you have the power to control how you feel.
Mark was able to put this theory into practice when, after his accident, he was able to slowly resume surfing. In fact, not only did Mark face his fear, but he also managed to make the most of his recovery period, using the time to not only slowly transition back to surfing, but also to launch his public speaking career.
'[There was a] silver lining to being injured,' he says. 'It kickstarted me doing [public speaking] full time, so I'm ready for when I retire down the line.

I've been flying all over, delivering keynote talks to Google, Mastercard, a bunch of big organisations, like Commbank.'
Regularly practice gratitude
When you're stressed or frustrated, you tend to focus on yourself and these feelings. One way, however, to change how you're feeling is to practice gratitude.
And this is something that Mark, himself, is a master at.
Cultivating an emotional state of gratitude has numerous benefits for your mindset, says Mark, including decreasing your stress levels, improving your immune function, and strengthening relationships.
Research shows that gratitude can shift your nervous system from an anxious state to one where you're able to cope with and recover from whatever you're feeling.
Mark got a first-hand opportunity to practice gratitude when he was injured. Instead of focusing on the fact that he was injured and couldn't do what he loved, he put his effort and energy into growing his public speaking career. Specifically, he says:
'When I had the accident, the doctors were all freaked out like "You're going to go through mass depression because your body's going to change, you won't have the adrenaline that you're used to getting, so your hormone balance will change. But public speaking has helped so much, because for me public speaking is scarier than surfing. I get as much adrenaline from that.'
Mark is so passionate about this concept that he's created his own gratitude technique, which he calls the 'Gratitude Text'.
Want to experience this for yourself?
Grab your ticket to the CPO Forum now to see Mark and numerous other inspiring speakers, including former Prime Minister John Howard.