Indigenous Sourcing Project of the Year – We Have a Winner!
A joint partnership between Telstra and WV Technologies has won the Indigenous Sourcing Project of the Year Award, presented by IKON Services Australia, at The Faculty Gala Dinner Awards of Excellence!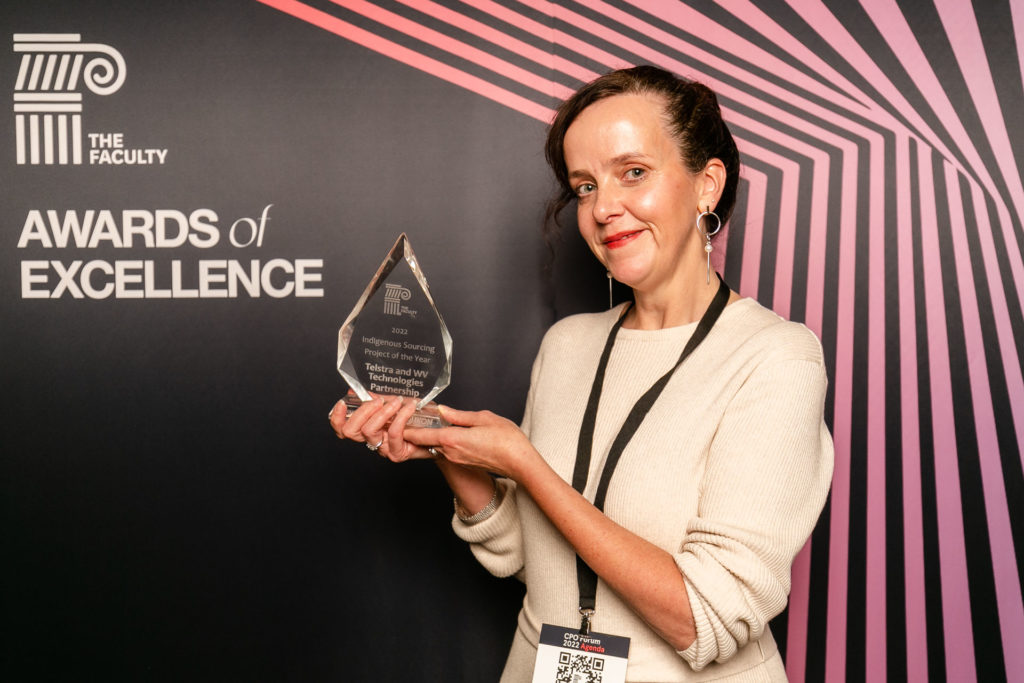 Jenni Decker, Principal – Supply Chain Planning at Telstra
---
A joint partnership supported by Telstra and WV Technologies has been recognised as the Indigenous Project of the Year at The Faculty Awards of Excellence and CPO Forum Gala Dinner at Crown, in Melbourne.
The eWaste recycling project, conducted during the COVID-19 pandemic was designed to support Telstra's approach to reducing carbon emissions as the company decommissions and replaces old equipment with new, energy-efficient products, more than 1,200 pallets in total.
A profit share model was agreed to resell and recycle the equipment, generating a significant number of Indigenous employment and mentorship opportunities.
Project deliverables include:
Employment of more than 21 Indigenous youth, who received career coaching, mentoring, upskilling, and transitory accommodation for the duration of the project
More than 1,200 pallets or 300 tonnes of eWaste recycled and/or reused
A reduction in greenhouse emissions equivalent to removing 1,764 cars from the road per year
Given the results, the partnership has been expanded to other decommissioning projects which include eWaste recycling for exchanges, mobile phone sanitisation, repair and resale.
We thank IKON Services Australia for their sponsorship of the Indigenous Project of the Year Award and for their commitment in supporting the representation and growth of indigenous organisations and interests in procurement.
Indigenous Sourcing Project of the Year
The Indigenous Sourcing Project of the Year award recognises an organisation that has generated market-leading procurement or supply chain results with indigenous businesses. The winning project is an exceptional representation of how indigenous procurement and supply chain leaders create new value, today and into the future.
The Judging Process
Nominees are assessed against The Faculty's X Factor Procurement Leadership Framework which is based on a demonstration of strength and balance across four key areas – Functional Excellence, Leadership Attributes, Commercial Leadership and People Leadership.
Judges
Michelle Evans, Director, Dilin Duwa Centre for Indigenous Business Leadership
Darren Peiris, Talent & Capabilities Development – International, The Kraft Heinz Company
Johanna Anderson, Director of Learning & Member Engagement, Sustainable Purchasing Leadership Council
Leigh Petschel, Chief Financial Officer, Monash University
About The Faculty
The Faculty is Asia Pacific's leading Procurement advocate, highlighting the integral role of Procurement in protecting margins, brand and growth for over twenty years. Through professional development and creating knowledge networks for CPOs to share best practice learnings, The Faculty helps businesses accelerate and optimise their procurement investment.
About WV Technologies
WV Technologies specialise in IT decommissioning, asset buyback, eWaste recycling and data destruction, which is Government certified to Top Secret. They are a Supply Nation Registered Indigenous business and a Certified Social Enterprise known for doing the right things for the right reasons.
About IKON Services
Founded in 1999 and with corporate head offices in Melbourne & Sydney, IKON Services Australia is the product of 40+ years' experience and a desire to provide tailored cleaning and facilities management services to clients unencumbered by the bureaucracy that often accompany huge corporations. A market leader, IKON Services the public and private sectors.