How to build your 5 year procurement career roadmap
Setting yourself some new goals to launch your procurement career? Then why not start by letting the experts help you with your 5-year career plan?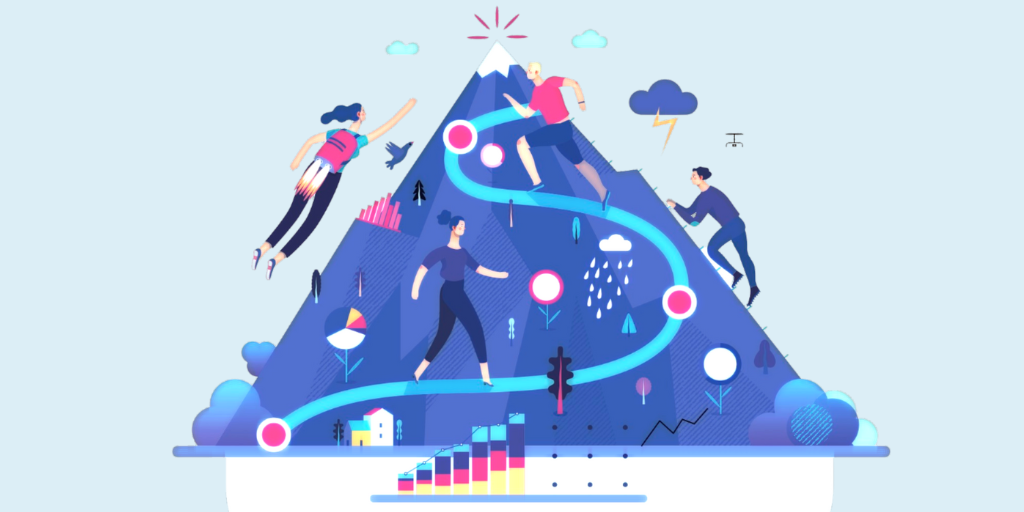 You know where you want to be in five years' time – in the upper echelons of procurement management, maybe even a CPO – but the route to get there is far less clear.
How do you get started?
Different organisations, due to legacy or preference, will have different naming conventions for their procurement roles. However, there is usually a consistency in the job responsibilities so it's usually easier to understand whether your current role is entry, mid or high/senior level.
Here are just a few examples:
Entry Level

Procurement Analyst
Buyer
Procurement Assistant

Mid Level

Category Manager
Senior Buyer
Supply Chain Manager

Senior Level

Head of Procurement
Supply Chain Director
Chief Procurement Officer (CPO)
Global associations like CIPS and ISM tend not to follow any one convention, though they will generally agree on the CPO as the top job.
Their differentiation is largely in the level of professional accreditation you currently have or are studying towards. These are not necessarily dependent on your seniority in procurement, but where in your studies you have reached. For example, CIPS' qualifications go from Student Member up to Fellow of the Institute (FCIPS).
Non-Linear Progression
A career in procurement is rarely a linear progression from bottom to top in a straight line.
You may start off with grand ambitions to reach the top within 10 years, but 'fast-tracking' your career isn't necessarily the best or only way to become a CPO.
You may choose to step off the procurement ladder altogether to build experience and knowledge in a different area, or pause your progression to focus on further education and professional development. You might even take a step down the ladder to allow you to move up more confidently at a later date.
The reason for this is that there is still no strict route into a procurement career in the way that you might train to become a doctor or an architect.
Even now that procurement is recognised as a profession in its own right, it's still more often a career that people transition into rather than set out on specifically.
IT professionals, Engineers and quantity surveyors all have roles linked to procurement, without having a specific procurement role.
As their careers progress, they may opt to move into procurement or sourcing full time. For others, procurement will be a career choice when leaving school or university and becoming aware of the profession.
How to get into procurement
Many people will choose procurement as their career and then select an association like CIPS, ISM or BME to do further qualifications or higher education programmes.
CIPS alone has approximately 60 institutions running accredited degrees and programmes in procurement and supply chain management that provide another path to MCIPS and ultimately Chartership.
Procurement – the next 5 years
When it comes to the next five years in procurement, there are a significant number of 'Unknown unknowns' that the profession somehow needs to prepare itself for.
Risk management is top of the list of challenges facing procurement and how best to deal with emergent risks. If you would like to read more about risk management, then head to our Riskmethods Report.
Risk management most likely will include:
Increasing cyber security risk through great connectivity requirements due to remote working.
On-going geo-political uncertainty and upheaval in previously stable regions.
Increased environmental and sustainability risks to supply chains through global warming and climate change. Our sustainability report outlines the way in which procurement is changing.
Risk from more complex, multi-tiered supply chains in the fight against exploitation and Modern Slavery.
And that's just a few factors from one area.
The challenges will keep coming, and many from areas we haven't even thought about. The key challenge is having the right skills as an individual and a profession to mitigate risks and overcome challenges and also to ensure your career roadmap doesn't come to a dead end.
The key skills professionals need to consider to keep up against emergent trends include risk management, business intelligence to help enable change, digital skills to accommodate new ways of working in a new normal world, and executive presence to ensure that the right messages are delivered to the right people at the right time – and that they listen to them.
All of this falls under the banner of continuous development. This isn't a destination on your procurement career roadmap but a way of keeping your feet under you.
And now you have that in mind, you can start to plan ahead.
Why build a procurement career roadmap?
What you need to do is first understand the possible career paths set out in front of you. Then you can use your procurement roadmap to help plan it out.
Whether you are new to the procurement profession, looking to make your first strides into management, or even taking that final step to CPO level, it's important you know what organisations are looking for when it comes to filling those key roles.
We've spoken to some experts in the procurement recruitment field tp learn about the skills, knowledge, and experience you're going to need to make it to the top.
We've collated their advice into the five areas you need to focus on while setting out your career roadmap.
Regardless of your current role and seniority in procurement, this advice will help to take your career forward in the coming years.
1. Education and professional development
Professional development and accreditation are always going to be high on the list of things employers are looking for in their senior procurement leaders.
Naseem Malik, Managing Partner at MRA Global Sourcing, believes that all professionals should be pursuing industry certifications, such as CIPS and ISM, and continuing education in procurement and supply chain.
While there may have been a focus in the past on traditional skills such as category management, now is the time to focus on the soft or behavioural skills, says Martin Smith, Managing Director at Talent Drive. Smith strongly advocates for these skills linked to your overall relationship management.
It's also important for procurement to focus on key industry and global trends, such as sustainability, responsible sourcing, and human rights.
Krystle Edwards, Regional CEO – APAC at Proco Group, says that if this isn't something you can get involved with at your current company, you should be exploring study options to expand your skill set to allow you to take advantage of future opportunities.
2. Your experience
There is a difference between a good and not so good CV, argues Martin Smith.
Irrespective of what procurement is being measured against, your procurement experience, and by extension your CV, needs to focus less on the numbers and more on how you delivered successes with your team.
Not only this, but leaders need to have both the CV and the data to back it up, meaning you need to keep a proper track of what you have achieved.
It's a point that Mark Badley, Managing Director at Ronin, agrees with. However, he argues that a good CV is great, but it's just one of many tools for your career, rather than the key to your dream job.
Badley says that your CV needs to make an employer want to invest in you as an employee – why they should get "employee FOMO" from not having you on their books.
One final key point, agreed on by all our experts, is that you need to show your adaptability in your experience.
Mark Badley believes that in order to reach the top, you can't afford to be pigeon-holed in a role, while in Krystle Edwards' experience, leaders need a diversity of experience, in different industries, sectors, categories and even countries, to build up a breadth of knowledge that organisations are looking for in their leaders.
3. Your employer
Consider your current employer. Do they have a good track record in developing CPOs? Are they a CPO incubator, as Mark Badley puts it? How is your employer and its procurement function perceived in the wider market?
If you aren't sure about any of this, you might need to think about making your next step to an employer who ticks all these boxes.
But your next move doesn't necessarily always need to be to a new employer, you need to strike the right balance between loyalty and progression through internal promotions.
At the same time, don't close yourself off to contract work, says Naseem Malik. It can provide a good breadth of experience, and he believes that within 10 years, more than 50 per cent of procurement professionals will be contingent workers.
Rupert Gaster, Managing Director at Procurement Heads, also believes that you need to be seen to be doing the right things with your employer, aligning yourself with the organisation's objectives and goals and looking beyond the bounds of your existing role to prove that you have what it takes to do the next role.
4. Relationship management
Perhaps one of the most critical skill sets leaders need to develop now are in relationship management.
According to Martin Smith, the very best leaders are those who can adapt their communication style and their approach to discussions with different stakeholders to best suit the situation.
Naseem Malik agrees but argues that, with a rapid pace of change and increasing uncertainty, empathy is more important than ever.
Malik also believes that communication skills have evolved to include being able to build a rapport with your team while not meeting them in person. Leaders need to get a better grasp on new technologies – Zoom, Slack, Microsoft Teams, etc. – to ensure they have the right tools to build relationships with stakeholders, both external and internal.
It's not just about technology, though. Mark Badley highlights the importance of good note taking for leaders as a way of building strong relationships.
It allows leaders to keep better track of past conversations, have key information to hand, and help show their teams they are taking an active interest in them too.
5. Personal brand
One critical area all our experts agreed on was the need to develop your personal brand.
Rupert Gaster highlighted the benefits of using networking to give yourself a face and voice in a public arena. This could be done by sharing thought leadership, speaking on webinars and creating content.
However, Gaster warned that authenticity was crucial to avoid controversy.
While networking and social media are important tools, Mark Badley recommended having a strong LinkedIn profile and network, but cautioned on being connected with everyone you have met professionally.
He argues that you should ensure that your network is of a size where you have meaningful interactions with your connections. You want to be in a position where your network adds value for you, and you for it.
Finally, personal brands are not all digital. Both Rupert Gaster and Naseem Malik highlight that leaders will build a personal brand by supporting causes and championing agendas both internally and externally to their organisation.
Leaders may also choose to use their procurement skills to help others by finding relevant volunteering opportunities for non-profit organisations and giving something back.
What if it all goes wrong?
Of course, in spite of all this great advice and your best efforts, there's no guarantee that your roadmap will lead to success every time.
There will be roadblocks, a lack of entry points, and a strong chance that at times things will just go wrong. You may find yourself on the wrong side of a hiring decision, face tough conversations with employers, and you might even lose your job.
If this does happen then there's no need to panic. You are not alone in losing your job – around 3% of people are made redundant due to corporate downsizing each year. In 2020, we had to come to terms with the term 'furlough' and what it might mean for us.
Consider your roadmap as a plan to be changed and prepare for this in the same way you would manage risk in your supply chain.
If you need help, seek out advice from the experts and ask your network their thoughts before those next steps.
Keep yourself on the front foot in your current role by being prepared for organisational change and share your success to show how much value you bring to your team.
And if you do choose to leave your role of your own volition, make sure you do it in the right way so that you keep your change positive.
Are you ready to Level Up your procurement skillsets? Join the Level Up Your Procurement Group today, and get ahead in your career!
Find more Career Development news, insights, and best practises at Procurious.com.