How the Pandemic has Changed Procurement
At our most recent CPO Roundtable in the UK, Procurement and Supply Chain leaders gathered from across the country to discuss how the pandemic has affected us, as James Marland reports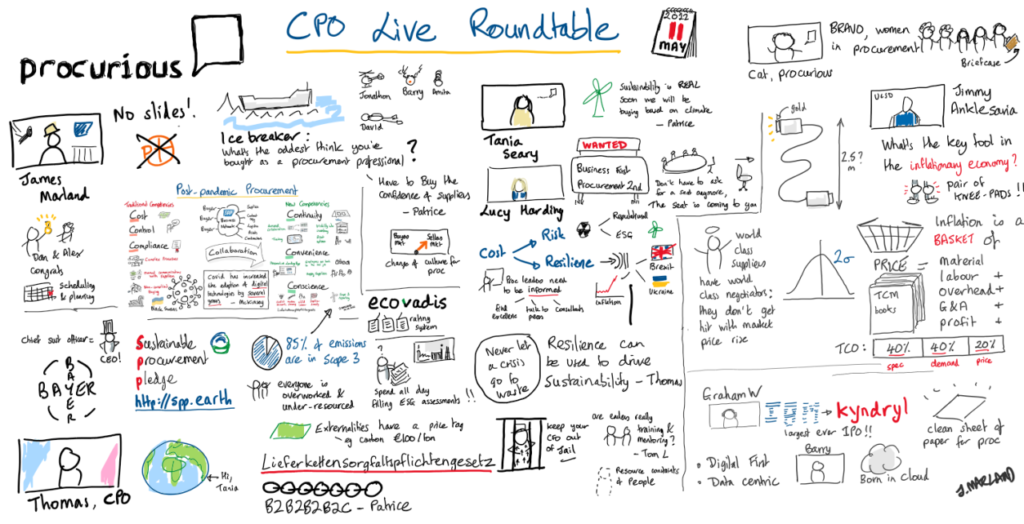 ---
At a recent CPO round table hosted by Procurious and chaired by Tania Seary, Supply Chain Leaders came together to look at how procurement had been affected by the Pandemic.
Lucy Harding started off by talking about the new requirements for business acumen that boards are now expecting when hiring for CPO or Chief Supply Chain officers: "Business First; Procurement Second". Don't need to beg for a seat at the table any more, the seat is already there, but do you have the real experience to fill it? Lucy identified that Procurement leaders need to be better informed about global business challenges and should talk like management consultants, not accountants.
For my whiteboard presentation, I quoted McKinsey: "Covid has increased the adoption of Digital Technologies by many years" or as I summarised it "even my mother is now on Zoom". I talked about how the three traditional competencies of cost, control and compliance were being supplemented by the need for continuity, convenience and conscience and that the catalyst was collaboration empowered by networks such as the SAP Business Network.
Thomas Udesen talked about his work with Sustainable Procurement Pledge, which has the very cool web domain of https://spp.earth/ : the domain which ends with dot-earth certainly got my attention and reflects his vision that all supply chains across the world should have embedded sustainable procurement practices by 2030. He reminded us that with so many new regulations out there, from Scope 3 emissions to the German Lieferkettensorgfaltspflichtengesetz suppliers feel that they could be spending all day filling out ESG assessments and buyers need a better way. Sustainability isn't just a good idea, in many cases it's the law.
Graham Wright, talked about the opportunity to start procurement afresh, as his is now the CPO of Kyndryl: "the world's biggest start-up" — it's a spin-off from IBM, with 90000 employees. He challenged us to imagine what we would do differently if we could design a procurement shared service operation from scratch: Digital First, and Data-Centric were two of his guiding principles.
A final speaker was Jimmy Anklesaria, author and economist who had some great insights in how Procurement needs to adjust to a new high-inflation environment. Inflation has been low for so long that many procurement teams aren't experienced in dealing with suppliers who, for instance, try to negotiate a 20% price rise because "my fuel costs have gone up 20%". His advice is to always build a cost-management culture with your supplier, and identify the factors which have the biggest impact on the cost of a product or service.
If some parts of my sketch don't make a lot of sense, well, you had to be there. So next time you see an invitation from SAP or Procurious, join us and get in on the conversation.