What is the 'Great Resignation' and what does it mean for you?
All over the world, an intriguing trend is starting to emerge, and it's called the 'Great Resignation'. Here's what it is, and what it might mean for you.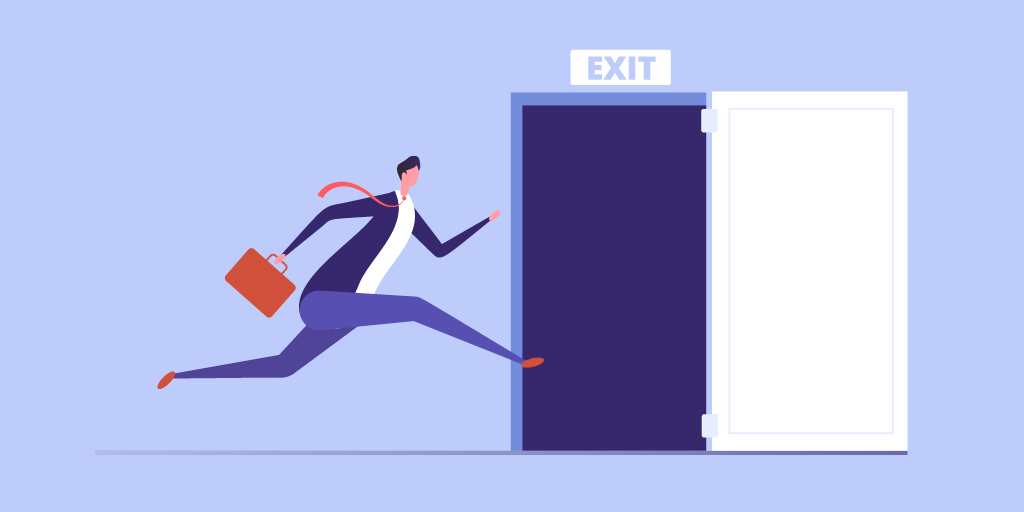 No one would challenge the fact that it's been an incredibly long, and often difficult and exhausting two years in procurement. Ever since the start of the pandemic, we've been faced with everything from seismic disruptions to our supply chains, to ever-shifting expectations.
Many of us have admitted to constantly feeling overwhelmed and, as a result, have had to deal with a lot of anxiety. And even though it may be true that the pandemic has presented some interesting career opportunities for many of us, those opportunities don't come without a growing sense of procurement burnout.
So the critical question is: where to from here?
What is the 'Great Resignation?'
During the height of the pandemic and lockdowns last year, the number of people looking for new jobs dropped dramatically. Employees everywhere were concerned for their and their organisations' futures, and this uncertainty led to a greater focus on making the most of current roles and situations.
But with global lockdowns easing things have changed. And they've changed drastically. In the US this year nearly 35 million workers have quit their jobs, with many citing 'better work-life balance and other, better conditions' as their primary driver. Researchers have dubbed this phenomenon 'The Great Resignation', but have said that it represents an unprecedented opportunity for employees going forward.
Career coach Jane Jackson believes that the 'Great Resignation' will continue next year. Many employees are feeling burnt out and ready for a change, especially one that involves better career opportunities, conditions and pay, as well as better management.
How will it affect procurement professionals?
Organisations the world over have cause to be hopeful about the future. Fewer restrictions, higher vaccination rates and recovering global economies have people looking on the brighter side once more. Along with this increased activity comes increased demand for goods and services which, in turn, is great news for procurement.
2022 may be a year of unparalleled opportunity for procurement professionals everywhere. Experts predict that for the first time, employees will be able to have a (relative) say in their working conditions, with many organisations expected to continue to offer flexible work or hybrid home-office working on either a part or full-time basis.
With the number of job seekers outweighing the number of jobs, it has all of a sudden become an employees' market. Organisations will have to step up their game to attract the best of the available talent, which may mean offering higher salaries, more benefits, and better career and development opportunities.
Procurement professionals will find themselves with not only more roles to choose from, but more choices when it comes to where and how they work, and how they are compensated.
How will it affect those looking to hire?
While the Great Resignation represents a fantastic opportunity for procurement professionals, it offers the same opportunity for procurement hiring managers. But only if they play their cards right.
The procurement profession as a whole is in a delicate position when it comes to the balance of jobs versus the talent available to fill them. Good for job seekers and new entrants to the profession, not so much for the organisations looking to attract the top talent for their vacancies.
Organisations face the situation where they may lose one of their critical team members, then finding it difficult to fill this position with the right person, rather than just a new body. This can create a vicious circle where remaining staff have to pick up the slack, leading to more stress and a greater openness to new opportunities, leading to more people leaving for greener pastures.
But there are benefits for procurement and hiring managers in 'The Great Resignation', particularly if they can work together. By considering what employees are looking for, organisations can attract some of the abundant talent out there in the job market. This can help provide new skills and experience in a procurement team, as well as creating an environment where employees are satisfied and less likely to have their heads turned.
It may take some finessing to get there, but having a more tailored offering, balancing expectations and operational requirements, can set an organisation up for the future. And when the future is this uncertain, that is no bad thing.
What exactly are employees expecting in a post-pandemic world? And how can organisations deliver it in order to reap the benefits. Register for our webcast, "Talent Supply: Are you breaking your own chain?" – available on demand now.