Future Leader in Procurement Award Winner
Kelly Godschalx from Amazon has won the Faculty Future Leader in Procurement of the Year Award, proudly presented by Coupa at The Faculty Gala Dinner Awards of Excellence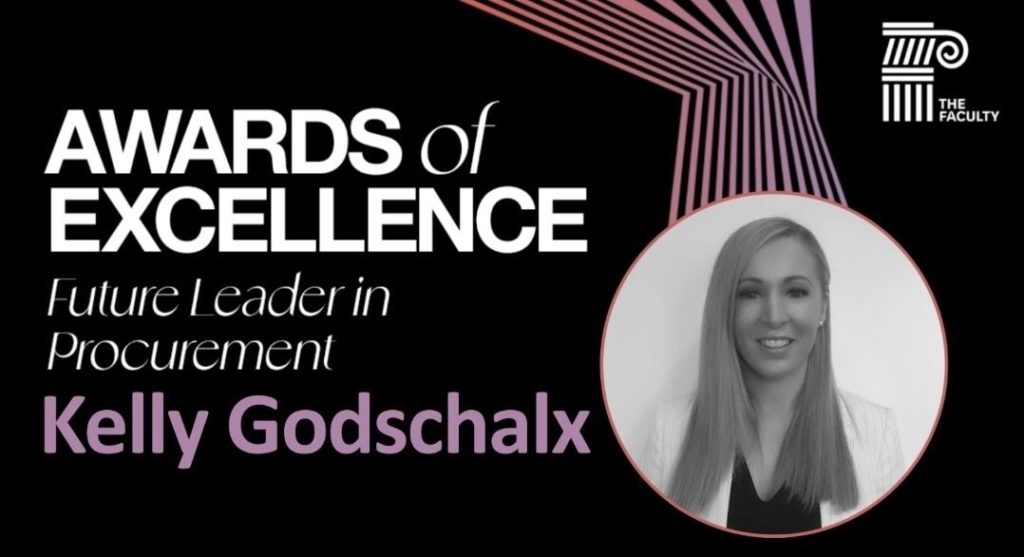 ---
Kelly Godschalx, Procurement Operations Manager Australia for Amazon, has been recognised as the 2022 Future Leader in Procurement (FLiP) Award winner at The Faculty Awards of Excellence and CPO Forum Gala Dinner at Crown, Melbourne on Wednesday 1 June 2022.
Kelly is Procurement Operations Manager for Amazon Australia, where she manages a team of 40, with seven direct reports. Kelly is responsible for all non-inventory and onsite services for Australia's 21 operations sites. She also has responsibility for an additional 100-plus, third-party resources onsite each day that provide services including cleaning, food, waste, recycling, and pallet and vending machine management.
Craig Fuller, Director of Operations at Amazon Australia, who endorsed Kelly for the award, said, "Kelly is a rising procurement and supply chain star who has 13 years' experience covering leadership, strategy development, strategic sourcing, supplier management and operations working within global fortune 500 and Australian ASX 20 companies… Her career has progressed to now being the country lead of a procurement department for one the world's largest companies, Amazon."
In reviewing Kelly's nomination the judges recognised significant achievements and attributes, including:
Professional experience that includes management of procurement portfolios > $1B
Leading a regional procurement function, which involves managing and implementing functional strategic plans, building and developing teams and managing and negotiating commercial contracts >$100M
Implementing improvements to the Australian procurement function by simplifying processes by driving standardisation and sustainable practices along with creating greater visibility and awareness for stakeholders
A passion for the procurement and supply chain profession and the important role it has to play in business and the community.
We thank Coupa for their sponsorship of the Future Leader in Procurement Award and for supporting the next generation of leaders in our profession.
About the Future Leader (FLiP) of the Year Award
The Future Leader of the Year (FLiP) Award recognises an outstanding current or emerging procurement leader. This award is given to a multi-talented procurement and/or supply chain professional who has demonstrated leadership capabilities and is an influencer and a trailblazer for their profession. This individual is an outstanding example of what it means to be driven, passionate, and devoted to their profession, going above and beyond to drive real world change.
The Judging Process
Nominees are assessed against The Faculty's X Factor Procurement Leadership Framework which is based on a demonstration of strength and balance across four key areas – Functional Excellence, Leadership Attributes, Commercial Leadership and People Leadership.
Judges
Michelle Evans, Director, Dilin Duwa Centre for Indigenous Business Leadership
Darren Peiris, Talent & Capabilities Development – International, The Kraft Heinz Company
Johanna Anderson, Director of Learning & Member Engagement, Sustainable Purchasing Leadership Council
Leigh Petschel, Chief Financial Officer, Monash University
About The Faculty
The Faculty is Asia Pacific's leading Procurement advocate, highlighting the integral role of Procurement in protecting margins, brand and growth for over twenty years. Through professional development and creating knowledge networks for CPOs to share best practice learnings, The Faculty helps businesses accelerate and optimise their procurement investment.
About Amazon
Amazon is guided by four principles: customer obsession rather than competitor focus, passion for invention, commitment to operational excellence, and long-term thinking. Amazon strives to be Earth's Most Customer-Centric Company, Earth's Best Employer, and Earth's Safest Place to Work. Customer reviews, 1-Click shopping, personalised recommendations, Prime, Fulfilment by Amazon, AWS, Kindle Direct Publishing, Kindle, Career Choice, Fire tablets, Fire TV, Amazon Echo, Alexa, Just Walk Out technology, Amazon Studios, and The Climate Pledge are some of the things pioneered by Amazon. For more information, visit www.amazon.com/about and follow @AmazonNews.