Fighting the Scope 3 GHG Tide in Ocean Shipping
Ocean Shipping accounts for around 3% of GHG emissions, transporting 10 billion tonnes a year – how can we reduce its footprint without tripping up global supply chains?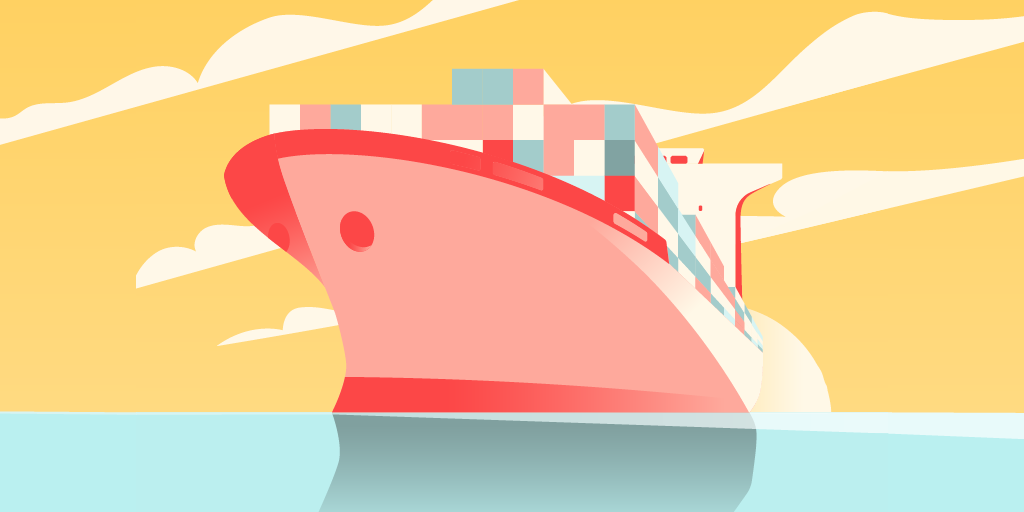 ---
As companies begin to track their Scope 3 emissions, the environmental performance of the ocean shipping industry is under scrutiny. Procurement leaders have an opportunity to lead their organisation's efforts to reduce Scope 3 emissions related to transportation.
Ocean shipping is a well-known producer of greenhouse gas emissions, producing about 3 percent of global GHG emissions while transporting about 10 billion metric tons of cargo each year.
Along with many other industries, the maritime sector is dealing with how to comply with the Paris Agreement, the global framework designed to reduce climate change by limiting global warming to below 2°C and pursuing efforts to limit it to 1.5°C.
To support the decarbonisation measures, companies are asked to evaluate their greenhouse gas emissions and set targets for reductions. The Greenhouse Gas Protocol identifies three scopes of emissions across the value chain.
Scope 1: Direct emissions from sources owned or controlled by the organisation.
Scope 2: Indirect emissions from the generation of purchased electricity, steam, heating and cooling consumed by the organisation.
Scope 3: All other indirect emissions that occur in a company's value chain, including transportation and logistics. For companies that ship goods by sea, those emissions fall under Scope 3 guidelines.
Currently, companies are called on to report on Scope 1 and Scope 2. Organisations committed to improving their performance are digging into their Scope 3 emissions, including their supply chain and transportation operations.
GHG Problems Run Deep
Most vessels today run on what's known as bunker fuel, which is low-quality fossil fuel burned by the massive marine diesel engines. It produces large quantities of sulfur and particulate emissions in its standard form.
Current regulations for Emissions Control Areas restrict fuel to a maximum sulfur content of 0.1 percent in areas including the Baltic Sea, the North Sea, the English Channel, and the area up to 200 nautical miles off the North American coast plus a zone in the Caribbean. Fuels outside those areas are restricted to 0.5% sulfur content.
Some vessels are equipped with scrubber units that allow them to use less expensive bunker fuel with higher sulfur content. Most cruise ships run on a higher-grade bunker called Heavy Fuel Oil, which emits less greenhouse gas.
The International Maritime Organisation, a United Nations agency that regulates the industry, has proposed measures to reduce greenhouse gas emissions to zero by 2050. Currently, the goal is to cut emissions in half by that date.
The EU, dismayed by the relatively slow progress of the IMO, has proposed new actions to ensure maritime transport plays its part in achieving climate neutrality in Europe by 2050.
Riding the Tide of Innovation
The industry is spending billions to research and test decarbonisation measures and retrofit vessels or incorporate them into new builds.
A.P. Moller – Maersk, the largest shipping operator in the world, based in Denmark, has committed to net zero CO2 emissions by 2050. It's building the world's first carbon-neutral liner vessel in 2023. Maersk has announced that future new buildings will have dual-fuel technology installed, using either carbon-neutral fuels or standard very low sulfur fuel oil (VLSFO). The company has ordered an additional 12 carbon-neutral container ships, set to be delivered starting in 2024. However, Maersk cannot source enough green methanol to operate all the vessels. The shipping line will have to work with suppliers to create the fueling infrastructure to support the new ships.
In Norway, the world's first fully electric, completely autonomous cargo ship has completed its maiden voyage. Sailing along the Norwegian coast from Horten to Oslo, the Yara Birkeland will cut 1,000 tonnes of CO2 and replace 40,000 trips carried by diesel trucks per year. The ship is powered by lithium-ion cells and uses radar, infrared cameras, and automotive integrated solutions cameras to navigate independently.
Replacing the diesel powerplant of an existing cargo ship would take a battery weighing about 700 million kg (1.6 billion pounds), more than the vessel's capacity. But smaller boats with green energy sources such as ammonia or hydrogen could carry the freight without emissions. Several ships with 3,000 to 4,000 containers could replace a single behemoth vessel that packs up to 20,000 steel boxes. Smaller ships could also call at less crowded secondary ports with shallower drafts rather than lining up to call at Los Angeles or Shenzhen.
Hydrogen-powered ferries are undergoing testing in Norway and San Francisco, California. Liquid hydrogen, produced in carbon-neutral plants, will power fuel cells that generate electricity to power the ships' motors.
Unfortunately, not all carbon reduction efforts work as they should. A recent study found that vessels that have switched to cleaner liquefied natural gas as fuel actually emit more than ships using standard bunker fuel. Nearly 80% of vessels that burn LNG use a type of engine that leaks 3.1% of the fuel into the atmosphere as methane gas.
Procurement Leads the Way
At this point, quantifying and reporting Scope 3 emissions is not required. However, according to the U.S. Environmental Protection Agency, more organisations are reaching into their value chain to understand the full GHG impact of their operations.
Because Scope 3 emission sources may represent most of an organisation's GHG emissions, they often offer significant reduction opportunities. Although these emissions are not in your organisation's control, you may be able to impact the activities that result in the emissions. Your company may be able to influence its suppliers or choose which vendors to contract with based on their practices.
As leaders in corporate ESG efforts, procurement pros have an opportunity to help their organisations identify opportunities to improve GHG performance.