Electrification of the Fleet: What You Need to Know
It wasn't so long ago that electric vehicles were in their infancy – now, the electrification of the entire fleet is emerging over the horizon. Here's how it's panning out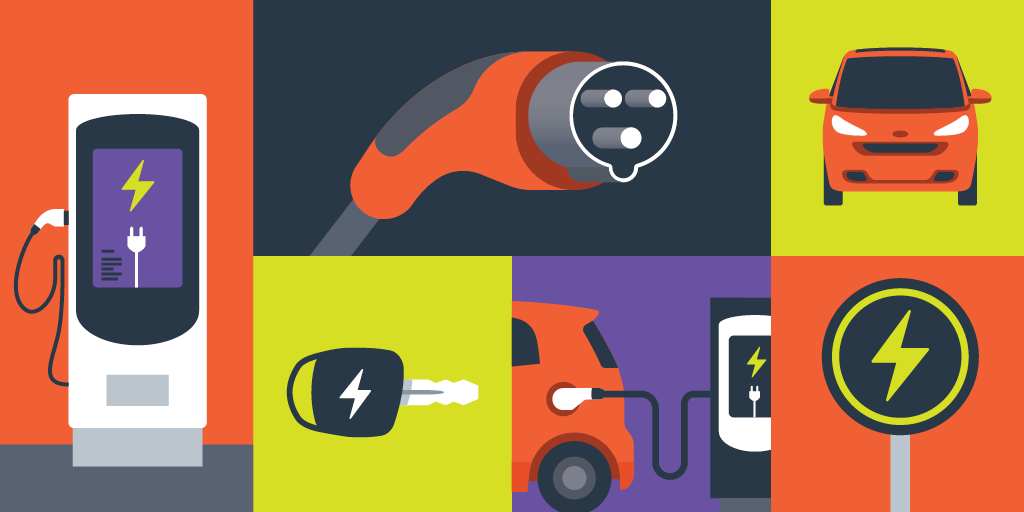 ---
The long-awaited promise of fully electric vehicles for commercial use is finally being fulfilled. Procurement and maintenance of EVs will require rethinking how fleets are acquired and managed.
In the U.S., light-duty commercial vehicles based on consumer-level vehicles have surfaced first.
In July, Amazon and Rivian announced a program to begin delivering parcels with an electric van in at least 10 cities. In 2019, Amazon CEO Jeff Bezos announced the online retailing giant would buy 100,000 electric vehicles, and these vans are among the first to roll off the assembly line.
Bezos said the vans were part of Amazon's efforts to combat climate change.
The spread of electric vehicles in delivery fleets and commercial uses will help companies manage their carbon footprint by reducing direct or indirect greenhouse gas emissions. The pressure is on to transition to a carbon-neutral supply chain by 2050.
Big Blue Oval Goes Green
In the U.S. Ford Motor Company, sometimes known as the Big Blue Oval for its corporate logo, was one of the first with a commercial-grade EVs, with delivery of E-Transit EV vans going to fleet customers in March 2022.
The hotly anticipated Ford F-150 Lightning Pro pickup for commercial users began deliveries in May as part of the initial order book of 200,000.
Europe and Asia Lead the Green Wave
In Europe and Asia, commercial electric vehicles are farther along the adoption curve. Of course, niche vehicles like electric milk floats in the UK have been around for more than a century. But the technology to support the daily use of medium-duty commercial vehicles hasn't been as widespread until now.
In Europe, EV adoption is evenly split between consumer and commercial adoption. However, plug-in hybrids, which blend plug-in charging with a gas engine to charge the battery, currently have a higher adoption rate among business owners.
The most popular EVs are small vans for last-mile deliveries in crowded city centers in Europe and Asia. The small, nimble size, zero emissions, and quiet operation make EVs a natural choice.
The global climate change effort has ignited the EV transition. For example, Renault Trucks has committed to electrifying its truck fleet to become carbon-neutral within 30 years through battery and hydrogen fuel cells.
Ford will launch nine EVs in Europe in 2024, including the F-150 Lightning Pro and the Ford E-Transit van.
In mature Asian markets, more than 200 low-cost EV models are in production or commercially available. In Indonesia, Mitsubishi is testing commercial electric vehicles for deliveries with local companies and DHL. Mitsubishi Fuso Truck and Bus has pledged to stop selling combustion engine vehicles in the latter half of the 2030s to focus on electric or hydrogen-fueled trucks and buses.
Isuzu Motors has announced its plan to start production of commercial electric trucks next year, making it the first Japanese company to compete in a market dominated by Chinese and European manufacturers.
In China, FAW Jiefang, a wholly owned subsidiary of FAW Group and the largest heavy truck manufacturer in China, announced it would invest more than CNY30 billion (USD4.64 billion) to develop electrified commercial vehicles in the next five years.
US Fleets Compete for Vehicles
In the US, most medium-duty EVs are still in the pilot stage and unavailable for public orders. Of course, commercial EV deliveries have been delayed by the semiconductor shortage that's still plaguing the automotive industry.
For now, manufacturers are balancing fleet orders with consumer demand for vehicles in short supply. Chevrolet has over 100,000 orders for the 2024 Silverado, including the WT or Work Truck model that should hit the market in spring 2023.
General Motors has more than 60,000 consumer orders for the electric Hummer pickup and SUV, and a few deliveries are trickling out. Rivian began making deliveries of the R1T pickup in the spring.
The uncertainty of whether the Tesla truck will ever see production, let alone announce tentative delivery dates, leaves it without much traction among fleet operators.
Despite easing the semiconductor shortage, vehicle delivery delays are still a reality. Manufacturers have stockpiled thousands of all types of vehicles awaiting semiconductors, some of which are unique to the vehicle.
Still, some forward-thinking commercial and governmental fleet operators have ordered EVs to add to their vehicle mix.
City officials in Round Rock, Texas, ordered 10 Ford Lightnings as a part of the scheduled fleet replacement process. Deliveries are expected in six to 12 months, but in the meantime, the city is installing the charging infrastructure at municipal locations around the city. In Vancouver, Canada, the city of Richmond ordered four Lightning EV trucks and three F-150 hybrid trucks, with delivery expected in the latter half of 2022.
Several U.S. police departments have adopted Tesla Model 3 and Model Y to their fleets, including New York City, Boulder and Spokane.
Duke Energy, a large U.S. electric utility, is all in on EVs. It has pledged to convert all of its nearly 4,000 light-duty vehicles to electric and 50 percent of its approximately 6,000 combined fleet of medium-duty, heavy-duty and off-road vehicles to EVs, plug-in hybrids or other zero-carbon alternatives by 2030.
Charging Ahead
While deliveries are delayed, companies can use the time to develop a charging infrastructure plan. A charging system should be in place when the vehicles are delivered so they can be put to work right away. Mainstream auto manufacturers like Ford and GM offer commercial programs, including charging systems and fleet analytics tools.
Intelligent software can boost battery performance through smart charging and remote monitoring. Companies will have the ability to track energy use and reimburse employees for home charging. Fleet telematics systems will maximise vehicle uptime and charging efficiency. With 150-kW fast charging, the standard-range Ford Lightning can recharge from 15 percent to 80 percent charge in 44 minutes, or about the time of a typical lunch break.
Fleet customers can use systems like GM's partnership with eTransEnergy, a part of U.S. electric utility Duke Energy, that assists fleet customers with integrating electric vehicles into their electrical infrastructure. The system gives fleet operators tools like infrastructure planning, smart charging technology, on-site solar energy generation and battery backup options to manage the EV fleet.
Ford's Pro Charging system is similar, with assistance in integrating charging hardware and software into fleet depots. Companies can also get help installing charging stations at employees' homes for those who take company vehicles home daily.
Some fleets are treading lightly with pilot programs for a few EVs in different parts of their business. Others are planning an aggressive transition to electric power to meet carbon-neutral commitments.
Even if EV deliveries are behind schedule, it's critical to plan for the charging infrastructure to be ready before the vehicles arrive. It can take six to 12 months to go through the process of planning, designing, building, and commissioning charging at a commercial facility, especially with adding large numbers of EVs to a fleet.