Defining Procurement 100%
Organic, original, challenging and aspirational – is this what procurement means to you? Maybe it should.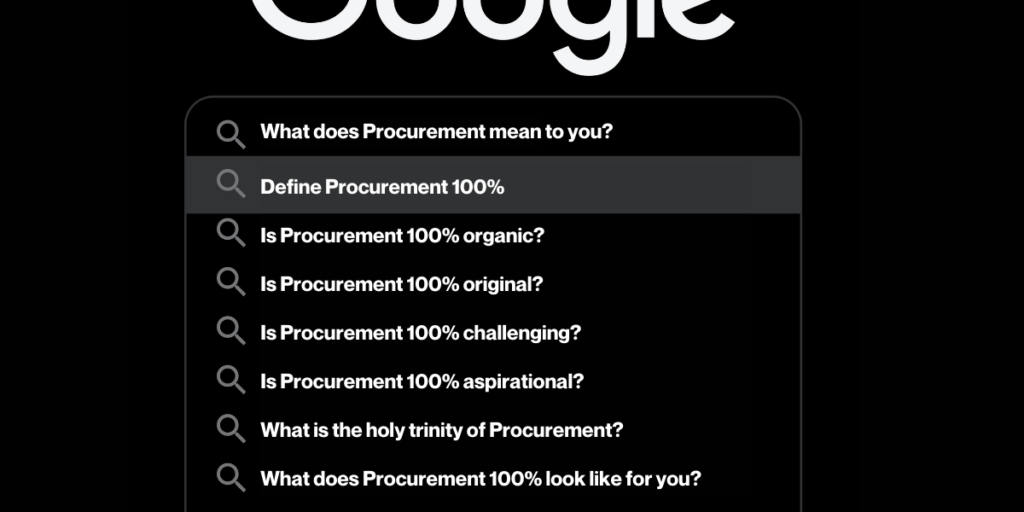 In a recent conversation with a business partner where we discussed all-things procurement, a new notion came to mind. The more we talked about it, the more it resonated and the more tangible it became. The concept, as simple as it sounds, embodies a holistic vision of what procurement professionals must strive for. We called it "Procurement 100%".
"Procurement 100%", is not the same as "100% procurement". It's a concept that recognises everything an organisation does is not purely focused on procurement, but that procurement must operate at 100% to enable the organisation to achieve its goals.
Procurement is 100% Organic
Procurement 100% implies that procurement is alive and complex, and that significant effort is required to achieve it. All the moving pieces of an organisation will influence procurement and we must be forever diligent to maintain performance.
Procurement 100% is a moving target, is a relative concept that needs to be assessed and gauged within its ecosystem, as it is no stranger to everything else within a company. It is a set of goals that defines and redefines itself constantly as risks become real and resilience is challenged everyday.
Procurement 100% is both the exemplification of sustainability, and its susceptibility to external variables.
Procurement is 100% Original
The most appealing thing about this concept is that the definition of Procurement 100% will be unique and different for every organisation. Each company must think about what 100% means to the broader vision of the organisation and devise a path and a plan against it to achieve it.
Only one rule applies. Procurement 100% is about achieving full operational transparency, enabling process compliance and capturing value at all times, no compromise.
A procurement function that operates at 100% would be world class – a function that balances process, people and technology in just the right way to enable the most ambitious goals of an organisation without wasting energy. It's about making the right way to buy the easiest way of buying.
No procurement function is the same, or requires the same energy and resources to reach its full potential. Not every organisation will need the same set of tools, people and expertise in house in order to perform at a high level.
Procurement is 100% Challenging
Procurement 100% is an exclusive club, because it demands mastery of the competing forces of strategic vision and operational functionality. Many companies have great vision, but lack the on-the-ground resources to execute their plan. Others have strong apparatus, tools and operatives, but fail because there is no strategic direction. Everything gets tactical, too granular, and they are unable to change mindsets.
To me, the greatest ideas come from defining, embracing and deploying out-of-the-box approaches that make us a little nervous, where failing is done quickly and learnings are applied before the fear of losing again, anchors us more to our comfort zone where all is safe, where procurement is still tactical at best.
Procurement is 100% Aspirational
Procurement 100% gives everyone a goal, a vision and mission to attain. It speaks about something that must, and can be, measured. Anything under 100% means there's work to do, everything at a 100% means it needs to be monitored.
I cannot define what Procurement 100% looks like for your organisation, but I can tell you that I don't know a single entity who has Procurement 100%. It's not that they don't strive for excellence and having a high performance procurement function. Those who acknowledge the value of 100% Procurement are the same visionaries who keep raising the bar just before its reached.
What I can tell you is that in the holy trinity of procurement – people, process, and technology – each make up for exactly 33% of your winning formula. Achieving the right balance is the secret ingredient for you to figure out to unlock the full potential of your procurement function.
Join us for the Global Big Ideas Summit next month to share what that 1% looks like for others.