Trailblazing CPO Commercialises Procurement
Broadspectrum CPO Crowned Asia-Pacific's CPO of The Year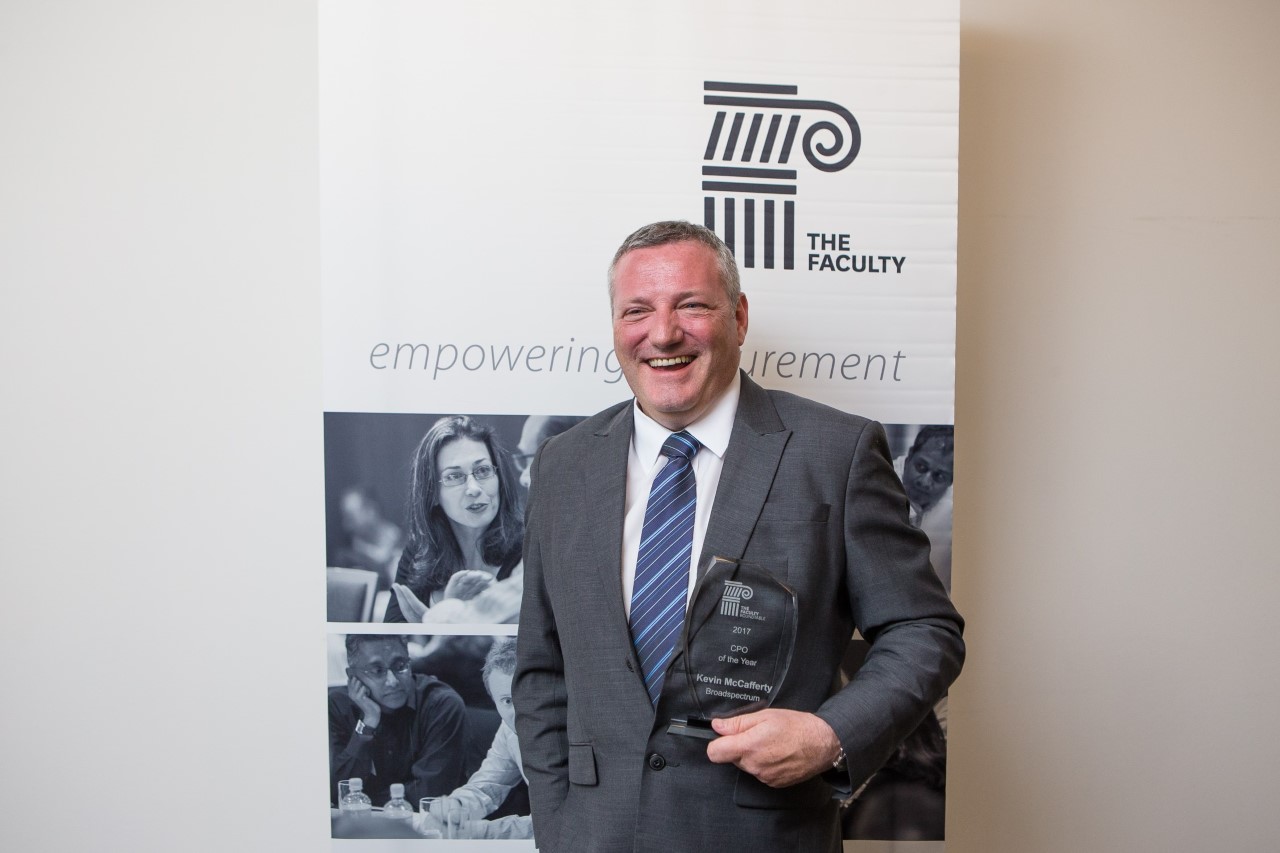 Flipping the old perception of Procurement as a back-room entity on its head, Broadspectrum CPO Kevin McCafferty has been recognised for introducing a value-based approach to procurement and dramatically transforming the function into a customer-oriented, bottom-line focused team.
McCafferty's achievements in consistently achieving both financial and operational objectives were celebrated at last night's CPO Forum Gala awards, hosted by leading procurement consultancy The Faculty.
Overseeing a procurement spend of $1.8 billion, Executive General Manager, Procurement Australia and New Zealand, Kevin McCafferty won the 2017 CPO of the Year award, after significantly increasing spend under management and delivering over $50 million EDITDA benefits, against an initial target of $30 million.
Broadspectrum CFO Vince Nicoletti, said: "Since joining two years ago, Kevin has made a significant difference to the procurement function within Broadspectrum. His strong transformational change leadership has seen the area move to a more strategic function within the business, which is now delivering bottom-line results and benefits.
"Most importantly, he has up-skilled and lifted capability across his team and enforced process discipline by implementing appropriate technology and system solutions.
"Kevin and team have also driven commercialisation of procurement and supply chain services into Broadspectrum's contracts with clients."
60 Seconds With Kevin McCafferty
Procurious managed to steal 60 seconds with CPO of the Year Winner, Kevin McCafferty, who discussed the number one skill for CPOs of the future.
CPO of Year Winner, Kevin McCafferty : "The key to our success is being recognised at the highest levels of the organisation as a team that creates shareholder value.
"What I discovered when I first started this role was that the approach to procurement was very inward-facing, while the rest of the organisation was focused primarily on the customer. This difference in our focus represented a lack of alignment, so my priority has been to change the thinking across the three teams under Procurement's umbrella."
The CPO of the Year award highlights the importance of the CPO role in organisations by recognising a remarkable commercial leader who is making a demonstrable difference to business results, having regard to the circumstances of different industries, budgets and the diversity of procurement team size and experience.
The Faculty's Founding Chairman, Tania Seary, said: "This significant change projects undertaken by our new CPO of the Year, Kevin McCafferty, highlights how modern procurement teams are driving business innovation by putting the end-customer and shareholder value first."
"By enabling procurement leaders to drive cultural change internally, Broadspectrum has achieved both bottom-line company benefits, as well as delivering true business and commercial partnering, in a remarkably short period of time."
About The CPO of the Year Award
The CPO of the Year Award is a flagship initiative of The Faculty, created in 2012 to recognise and celebrate the achievements of procurement professionals across Asia Pacific.
For the past 5 years the Award has celebrated someone who has been assessed as an outstanding leader, a prominent contributor to their business and the broader profession, leading delivery of high ROI, and exceeding performance expectations. The Award is a measure of executive presence, commercial insight, people leadership abilities, innovation, professional advocacy, technical ability and integrity.
The 2017 Judging Panel comprised Ms Sharyn Scriven, Group Manager, Metering Dynamics; Michelle Loader, Chief Executive Officer, Chandler Macleod Group and Matt Perfect, Founder Impact Spender. The meeting was chaired by Tony Megally, General Manager, The Source.
For more information on CPO of the Year click here.
About The Faculty
The Faculty is Asia Pacific's leading procurement advocates, highlighting the integral role procurement has to play in protecting margins, brand and growth for over thirteen years. Through consulting, professional development and creating knowledge networks for CPOs to share best practice learnings, The Faculty helps business to accelerate and optimise their procurement investment.
For more information on The Faculty click here.