Is Your Company Balancing the Four Pillars of Sustainable Procurement?
Even at a time of global supply chain crises, organisations must ensure that they balance ESG performance with daily operations.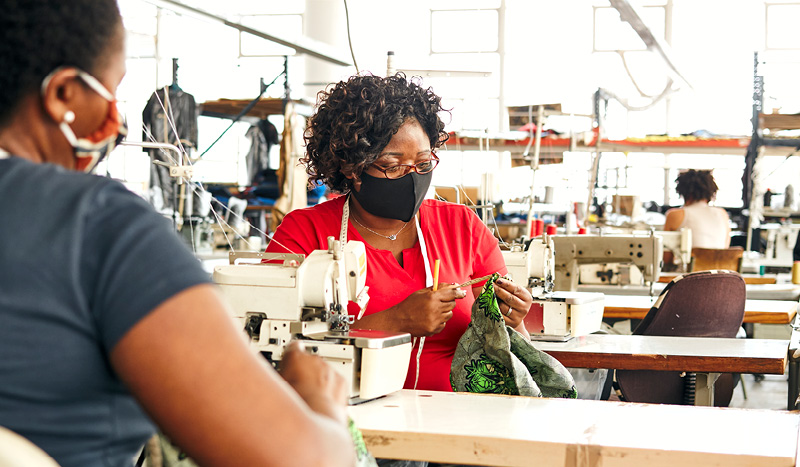 As sustainable procurement and supply chain gain prominence in regulatory and financial oversight, more companies are measuring themselves to ensure their performance meets international standards for environmental, social, and governance (ESG) issues.
Third party auditors or raters are one method companies can use to assess their practices and relationships to guide compliance strategies. The Business Sustainability Risk & Performance Index, published by business sustainability ratings provider EcoVadis, rates companies on their performance according to four pillars of sustainability: Environment, Labor and Human Rights, Ethics, and Sustainable Procurement.
According to the fifth annual index published in 2021, North America is rapidly gaining ground on Europe, which is home to about half of the most sustainable publicly listed companies in the world. North American companies have reduced the performance gap, establishing a sustainability rating score of 46.5, a new record for the region.
Downward Trend in Sustainable Procurement
To develop the Index, EcoVadis rated the sustainability performance of more than 46,000 companies between 2016-2020. The ratings are based on performance in 21 sustainability criteria across the four pillars. Scores range on a scale from zero to 100, where below 25 represents high risk, 25-44 represents medium risk, above 45 represents good performance, and above 64 is advanced.
The Labor and Human Rights theme had the strongest performance growth across the 2021 Index, taking into consideration criteria such as employee health and safety, working conditions, child and forced labor, diversity, and discrimination, and more.
However, Sustainable Procurement performance, which is measured as a key catalyst for mitigating sustainability risks across the supply chain, fell by 0.4 points on the 2019 average to 37.6 in 2020.
"Sustainability performance is increasing among rated companies across regions and industries as business leaders recognize that sustainable practices yield a tangible competitive advantage. But more work needs to be done to improve Sustainable Procurement performance, especially since the supply chain generates greater social and environmental costs than a business' internal operations," said Pierre-Francois Thaler, co-founder and co-CEO of EcoVadis.
"Sustainability is a journey, and the supply chain is the fastest path to success. In fact, companies that we've assessed at least three times have grown their sustainability management practices and have improved across all sustainability themes."
Sustainability a Highlight in 2021
Other highlights from the 2021 report include:
COVID-19 can't slow sustainability momentum. Despite disruption in global supply chains, companies' overall sustainability performance improved over previous years. For instance, the Labor and Human Rights average score of 50.7 was a new record. Next, the Environment theme reported an average score of 48.2, while the Ethics theme returned an average score of 44.3. Sustainable Procurement declined for the fifth year, leaving it the lowest-scoring theme. The downward trend suggests many companies were unprepared to meet supply chain due diligence regulations.
Greater China falls behind in sustainability. Europe remains the leading region in sustainability, with an average performance score of 52.1, while North America is rising with a score of 46.5 points. Greater China was again the lowest-scoring region, even though its average score increased to 36.9. China's low rating in sustainability management is concerning considering upstream sustainability risks in Chinese supply chains. Keep in mind, however, for example, sustainability management performance increased even though the Greater China region was home to many companies hit hardest during the early stages of the COVID-19 pandemic.
AMEA builds sustainability. Asia, Middle East, and Africa achieved a sustainability score of 42.7, extending its lead over Greater China.
Latin America makes strides. Latin America/Caribbean region gained over AMEA and Greater China, narrowing the gap with the global average in sustainability performance.
Sustainability performance varies among industries. Regulated sectors such as chemicals, electronics, and food manufacturing deliver a higher level of sustainability performance, and improvements in year-over-year accomplishments. Finance, legal and consulting services led the list with 51.0 average score. Wholesale services and professionals, and Transportation retain the most opportunity for improvement, with average scores of 45.8 and 44.8, respectively.
Mid-sized companies outperform. Results in the Sustainable Procurement theme were stable across company sizes, as mid-sized companies (100-999 employees) marginally outperformed their smaller (less than 100 employees) and larger counterparts (over 1,000 employees) with an average score of 38.2.
Even though some geographic regions display a stable performance trajectory, global practices in sustainable procurement are lacking and most businesses are unprepared to meet upcoming supply chain due diligence requirements and legal obligations.
The Index examined performance of both small and medium-sized businesses (companies with 26-999 employees) and large businesses (companies with 1,000 or more employees) across five geographic regions and nine industry sectors: light, heavy, and advanced manufacturing, food and beverage, construction, wholesale, services and professionals, transport, information, and communications technology (ICT), and finance, legal and consulting.
Benefits of Self-Auditing
While this might seem to be an exercise that focuses on company performance, driven by an external source, there is an onus on organisations to review their own practices. Self-auditing helps companies focus on ESG issues to satisfy customer expectations, meet evolving regulations, respond to pressure from shareholders and other lenders, and engage employee desires. It is also a very good way to engage employees in sustainability initiatives and ensure everyone in the organisation is pulling in the same direction.
However, as we have seen in some very public examples, organisational 'greenwashing' is no longer tolerated, with both employees and the general public expecting companies to hold themselves to a higher standard. And that, after all, is one of the key ways that sustainability will continue to grow.