And The Winner Is …
Congratulations to the winner of The Faculty Awards of Excellence Asia-Pacific CPO of the Year Award Henri Fadli, CPO of JLL Australia, proudly presented by American Express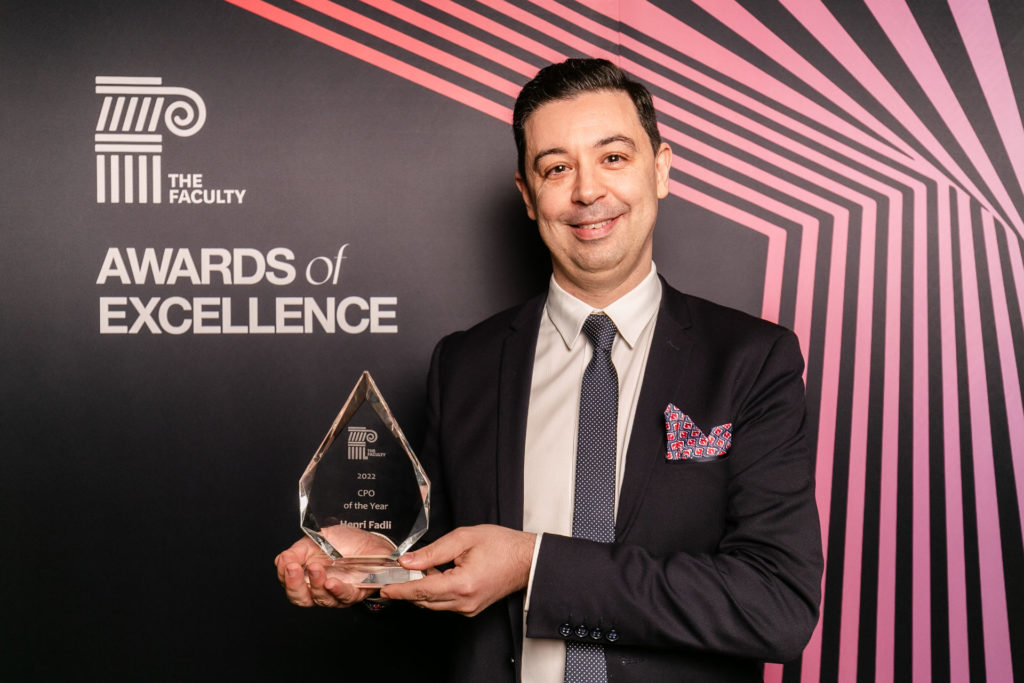 ---
Henri Fadli, Chief Procurement Officer of JLL Australia has been awarded 2022 Asia-Pacific CPO of the Year at The Faculty Awards of Excellence and CPO Forum Gala Dinner at Crown, Melbourne on Wednesday 1 June 2022.
Juud Tempelman, JLL's Global CPO, who endorsed Henri for the Award said, "Henri has expanded the reach of procurement into new countries, delivered significant revenue above plan and set industry leading standards for category evaluation. Henri is a strong and experienced leader who works well with his peers and fosters incredible loyalty in the team."
The judging panel identified some key achievements by the candidate in deciding to recognise Henri as CPO of the year, including:
Increased supplier diversity spend by 400% from $15m per year to approx. $253m per year over four years
Restructured the procurement function to become best in class in the property industry based on grouping key functional areas and implementing a client interface team to better build the profile of procurement internally and with key clients
Led and mentored the procurement team to successfully deliver complex procurement programs to key government and corporate clients, spanning hundreds of millions of dollars and incorporating initiatives around supplier diversity, social procurement and sustainability.
CPO of the Year Award sponsor, Hilary McMahon from American Express said, "Procurement is a key component in realising business growth. American Express is proud of its ongoing partnership with The Faculty, to help back the success of commercial leaders across Australia."
Henri has more than 30 years of procurement experience and has managed operational transformation in a broad range of industries across the USA, EMEA and the Asia Pacific. Since joining JLL in 2018 as Executive Director, Supply Chain & Procurement, Henri has transformed the JLL team to be industry-leading, while strengthening client service delivery and achieving significant cost savings.
Henri leads a large team of professionals charged with maximising profitability, growth and customer satisfaction and is responsible for procurement spend of over $2 billion.
About the Award
An initiative of The Faculty Roundtable, The Asia-Pacific CPO of the Year award recognises a remarkable commercial leader who is making a demonstrable difference to business results, having regard to the particular circumstances of different industries, budgets and the diversity of procurement team size and experience.
For the past 10 years the Award has celebrated someone who has been assessed as an outstanding leader, a prominent contributor to their business and the broader profession, leading delivery of high ROI, and exceeding performance expectations. The Award is a measure of executive presence, commercial insight, people leadership abilities, innovation, professional advocacy, technical ability and integrity.
The Judging Process
Nominees are assessed against The Faculty's X Factor Procurement Leadership Framework which is based on a demonstration of strength and balance across four key areas – Functional Excellence, Leadership Attributes, Commercial Leadership and People Leadership.
About The Judging Panel
Michelle Evans, Director, Dilin Duwa Centre for Indigenous Business Leadership
Darren Peiris, Talent & Capabilities Development – International, The Kraft Heinz Company
Johanna Anderson, Director of Learning & Member Engagement, Sustainable Purchasing Leadership Council
Leigh Petschel, Chief Financial Officer, Monash University
About The Faculty
The Faculty is Asia Pacific's leading Procurement advocate, highlighting the integral role of Procurement in protecting margins, brand and growth for over twenty years. Through professional development and creating knowledge networks for CPOs to share best practice learnings, The Faculty helps businesses accelerate and optimise their procurement investment.
About JLL
JLL (NYSE: JLL) is a leading professional services firm that specialises in real estate and investment management. JLL shapes the future of real estate for a better world by using the most advanced technology to create rewarding opportunities, amazing spaces and sustainable real estate solutions for our clients, our people and our communities. JLL is a Fortune 500 company with annual revenue of $19.4 billion, operations in over 80 countries and a global workforce of more than 100,000 as of March 31, 2022. JLL is the brand name, and a registered trademark, of Jones Lang LaSalle Incorporated. For further information, visit jll.com.