Advanced Category Management: It's Not Just About Savings
Category management is still misunderstood as a specific function in procurement. While understanding the category management process is important, the focus should be on the word "management": managing internal stakeholders, understanding their needs, and managing suppliers by understanding their needs to find win-wins, generate value and ensure continuous improvement. Jaggaer's Georg Roesch explains.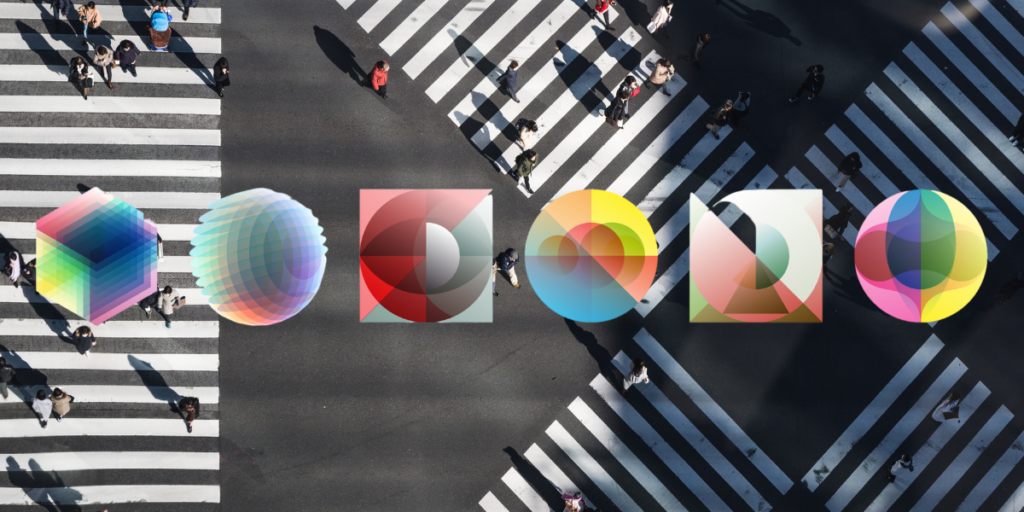 ---
Category management is not a difficult concept to grasp. Really. Just answer the following question: Which do you prefer: a) shoddy or mediocre goods and services at high prices, or b) excellent value? When it comes to execution, however, things get a lot more complicated. Category management is a technique used to understand markets, analyse spending, and make good purchasing decisions that save you money while securing quality goods and services.
If you are new to the subject of category management in procurement, there are many tactics, but a common one is to start with bundling items to take a bigger deal to market in order to be in a better position to negotiate a better price. One of the most popular and accessible books on procurement poses the question that goes to the heart of category management process, and very simply: Why are hot dogs cheaper in IKEA than in the supermarket?
That's all well and good, but IKEA sells a standardised range of products through near-identical superstores all over the world. It makes total sense that it bundles everything it buys from hex keys to drapes to hot dogs and gets a fantastic deal. What's not so easy to understand is how that works for a company whose products are highly sophisticated and/or non-standardised.
Take, for example, the Swiss company Bühler. Each day, two billion people enjoy foods produced from raw materials such as grain, coffee and rice processed on Bühler equipment; and every day one billion people travel in vehicles manufactured with parts produced with Bühler machinery. But the important point here is that every single machine that Bühler produces for its customers is unique. In that sense it is the absolute antithesis of IKEA.
Yet in another sense, it faces a similar challenge. The global orientation of the company's products, its presence in 140 countries worldwide with 20 business units, 30 manufacturing sites, 100 service stations and 25 application sites mean that sourcing is a global operation – and for Bühler, category management is crucially important to business success. And it is incredibly complex because, whether Bühler is producing air pressure systems, silos, compressors or steel constructions, the company always sources for specific projects, which means there is a huge range of differentiated categories.
Of course, companies like Bühler want to minimise spend, but for companies that believe "you cannot put a price on quality", category management has many other dimensions.
A misunderstood term
Category Management remains a largely misunderstood term. The confusion arises in the fact that it was originally coined by marketers in the retail industry: Nielsen defines the category management process as "a process that involves managing product categories as business units and customising them [on a store-by-store basis] to satisfy customer needs". Others define it as managing a line of products as a business unit, as opposed to individual brand management.
Only later did the term get adopted by procurement, where it is defined as "a strategic approach to procurement where organisations segment their spend into areas that contain similar or related products, enabling opportunities for consolidation and efficiency" (CIPS). Many procurement professionals might argue that this is what procurement has always done: understanding markets and looking for ways to strike a good deal. However, what category management as a distinct activity and organisational structure brings to the table is greater depth and sophistication.
A category is basically any group of similar items that you want to buy under a single deal: goods and services that are available from the same or a similar supplier base. Examples are stationery, fuel, travel services, transportation and logistics, advertising and legal services. But we should focus more on the management part, which is about applying robust methodologies (and a good deal of business acumen) so that you not only maximise savings (for example by designing the right sourcing events that are appropriate for each category) but also achieve other goals such as shortening time-to-market, reducing risks, increasing environmental sustainability, broadening supplier diversity or even creating new revenue streams. All of this implies a much stronger connection between the procurement function and the organisation's strategic objectives and even its mission, vision and values.
The key to effective category management here is understanding the internal customers' needs, as well as what's going on in the supplier market. The category management process is by its very nature a role that is normally a center of excellence, but it must be responsive to local needs and win stakeholder buy-in. To be successful and to command respect, a category manager must know how to leverage internal knowledge and expertise and must be able to work cross-functionally.
In practice, this could involve, for example, involving key stakeholders such as operations and quality control managers – and in the case of strategic suppliers, senior executives – on factory or site visits to build confidence that suppliers have what it takes (human and technological resources, financial strength and resilience, physical size of the business etc.) to satisfy everyone.
Time-to-market, for example, has become a decisive factor in the success or failure of a product, and in particular, the launch of a new product. Category managers can play a critical role in reducing lead times, as long as they are involved in the production process early on. For example, the lengthy request process for customised parts can be drastically cut down with excellent supplier communication supported by the right IT tools. To ensure that the price of a material or a part is not the only deciding factor in their selection, the category specialists need to look for further streamlining potential in purchasing and striking the right balance between stimulating competitive pressure on suppliers and consolidating spend.
In practice, you might for example negotiate a bonus to suppliers for beating the delivery deadline, or a penalty for missing it. With the emphasis on the former: the best category managers treat suppliers as partners, rather than people you need to beat up on price. In a complex category such as transportation, category managers should seek to balance savings with objectives such as reliability and operational integrity. The outcome should be a win-win for buyer and seller alike. Often the best way to do that is to keep the strongest incumbents on good rates while leveraging smaller operators who offer great performance.
If the benefits of category management can achieve all of the above, it will succeed in raising the profile of procurement across the organisation, changing the perception from a functional, operationally focused activity to a business process. As well as making breakthrough savings, the organisation will notice improvements in service levels, quality, availability and value for money, and a reduction in disruptions to the supply chain.
The supplier's perspective
Understanding things from the supplier's perspective can be approached scientifically and systematically. Just as we are accustomed to plotting suppliers on a matrix to assess their status (as strategic, tail spend etc.) so a category manager should do the same from the supplier's point of view, which means plotting Attractiveness of Account against Relative Value of Business. Suppliers see their customers as falling into one of four basic categories: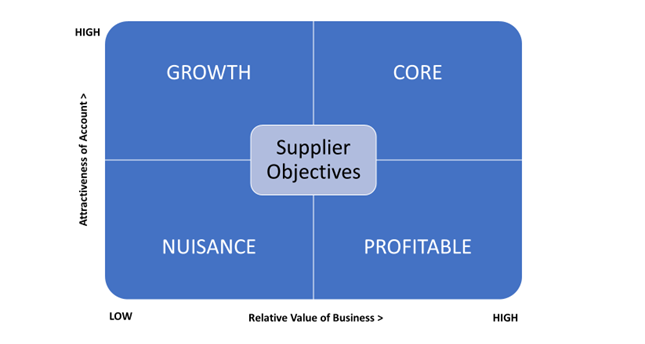 Nuisance: The customer has driven a very hard bargain on price and is highly demanding, which gets in the way of my other business. I have no incentive to compete for their business in future and am not motivated to give them good service.
Growth: The customer is not profitable right now, but the account is worth developing as I expect bigger opportunities. So, I will show willing and "use a sprat to catch a mackerel", as the saying goes.
Profitable: The account can bring me potentially huge gains in the short term, but I don't see it going anywhere. I will respond to requests but get the best price, even if that means losing the account. So, let's make hay while the sun shines.
Core: I value this relationship. It's profitable in the long term, so I will do what's necessary to give excellent service in order to beat off any competition. That means I have an incentive to work collaboratively with the customer to reduce costs, innovate and add value.
Whereas strategic sourcing will tend to recruit new suppliers into the "growth" segment, the job of the category management process should be to move them into "core". This requires category managers to develop the ability to walk in the supplier's shoes. And once again, this will require cross-functional stakeholder engagement across the organisation so that both parties understand each the other's needs in greater depth, appropriate training and joint activities are arranged, etc.
In this way the initial savings secured through sourcing will not be eroded over time; on the contrary, the benefits will be extended as the relationship matures. Both parties have an incentive to look for ways to reduce costs and increase value, e.g. through process improvements, which typically drive year-on-year benefits equivalent to around 5% cost saving with each renewal.
Above all, the category management process is a continuous process, and one that is multidimensional. Therefore, it is not always easy for mere human beings to grasp in all its aspects. Increasingly, category managers are relying on business analytics and artificial intelligence to undertake continuous analysis of market data and supplier performance against benchmarks to deliver a range of benefits across multiple inter-related projects.
The future of category management will be a matter of harnessing what advanced analytics is good at to what humans are good at. If you're interested in hearing more on category management and how to effectively digitize the process, tune into our webinar with The Hackett Group and AstraZeneca! We'd love to hear your thoughts in the comments!
---