7 Things You'll Learn at Big Ideas Summit 2023
The Big Ideas Summit is back in 2023 – and we're aiming to fly like eagles with a bigger agenda than ever before.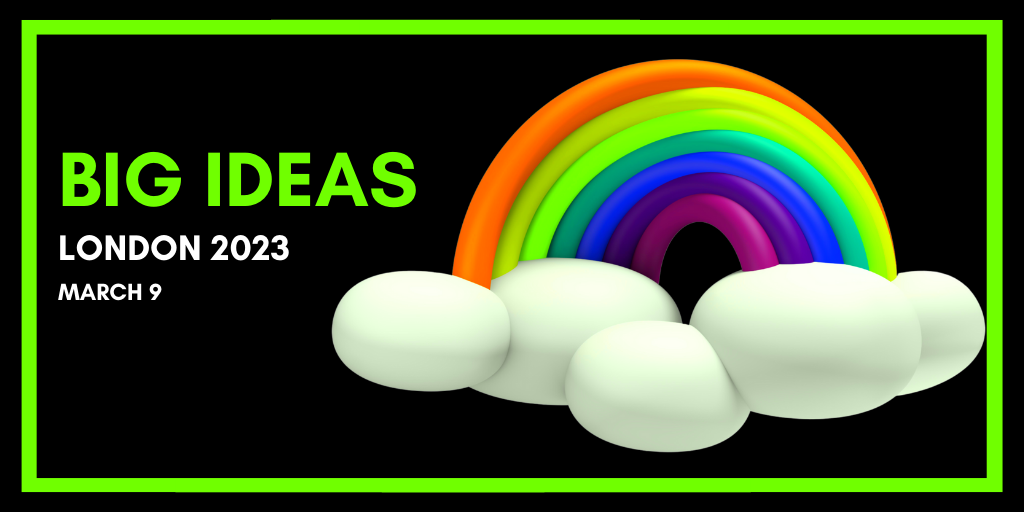 There's no let-up on the horizon for procurement, the expectations we place on ourselves, and those put on us by the rest of the business.
From inflation and geopolitical supply chain risks and challenges, to juggling a greater than even number of contractors, and closing high stakes deals with less support and even fewer resources.
In short, the heat is on.
And that's why we feel that it's more important than ever to get together, discuss our Big Ideas, and take these fresh perspectives and ideas back to our organisations.
With our theme this year of 'Thinking Big and Driving Real Change', we've gone above and beyond to bring global thought leaders and great minds together.
And just to whet your appetite, here are seven things you'll learn by taking part in this year's event.
1. Discover your courage to unlearn
The winds of change no longer feel like a breeze, but a Category 5 typhoon, and yet, there is still a huge opportunity for procurement to turn this into a tailwind and provide themselves with an opportunity to drive strategic change and create value.
Founder of Hack Future Lab, and MIT Entrepreneur Mentor in Residence, Terence Mauri, not only believes this, but is all set to tell us how to harness this power.
Attendees will hear first-hand from Mauri how, in order to change the status quo, they need not only the curiosity to learn, but also the courage to unlearn the lessons of the past to build a better future.
2. The UK economic crisis isn't as bad as you think
No matter where you look, the reports are the same – the UK economy is in crisis.
From the middle of 2019 with the beginning of Brexit negotiations, through COVID, and out to the period of massive geopolitical instability, the UK is facing five years of zero growth.
This leaves the country as one of the poorest in Europe and the only major global economy not to recover to pre-pandemic levels.
But is the economic crisis as bad as it seems?
Jonathan Portes, Professor of Economics and Public Policy, King's College London, and former Chief Economic to the UK Cabinet Office, will tell us why it's not as gloomy an outlook as you think it is, and how procurement leaders can weather the economic storms to come out stronger on the other side.
3. You, too, can fly like an eagle
Feel like you are trapped in your comfort zone? Or are you too afraid of failure to take a step outside of it?
If this is you, then we have just the man to inspire you to fly like an eagle and soar away from your comfort zone. It just might not be the person you expect.
Michael "Eddie The Eagle" Edwards, Britain's First (and Last) Olympic Ski Jumper, is more renowned for his 'failures' as a sports person, but this fails to tell the true story of someone who overcame setbacks, barriers, obstacles, and hard knocks to achieve his dreams and his goals.
A true inspiration and one keynote that you will not want to miss.
4. Simple ideas can add up to a big change
The concepts of being carbon neutral and working towards 'Net Zero' are no longer the ideologies that they used to be. Now they are necessities in both our professional and personal lives.
But sometimes getting from where we are ourselves and in our organisations, to where we need to be, can feel like a massive, and overwhelming, step.
Fortunately, we have help from one of the world's foremost thinkers on 'Net Zero' and an international authority on Decarbonisation Transformation.
Dr Cle-Anne Gabriel, National Leader of Decarbonisation Transformation at KPMG Australia and the Founder of ThinkZero, will share her five simple ideas that will all add up to helping you make a big change.
5. How to build resilience to survive and thrive as a CPO
What is the key thing that a CPO needs in abundance in order to not only survive, but thrive, at the cutting edge of the profession?
Ian Holcroft, Procurement Director at global construction organisation J. Murphy and Sons, speaks from over 30 years of personal experience when he says that resilience is the key.
Procurement leaders need to be at the very top of their game in a highly challenging environment, and Ian will share his best practice, strategies and knowledge to provide the leaders of today and tomorrow with their very own survival kit.
6. Great leaders are crucial to attracting and retaining top talent
The events of the past five years have helped to turn the talent landscape almost entirely on its head, leaving organisations with the challenge of both attracting and retaining top talent in a candidate-driven market.
Organisations need to ensure that they stand out from the crowd and leaders have a much greater role to play than they might think.
Human Resource expert Darren Peiris, Global Group Head of Talent Acquisition at National Grid, will tell the Big Ideas Summit what candidates are looking for in a leader, why leaders are just as important for retaining great employees, and exactly how to demonstrate all of this in the talent marketplace.
7. Re-imagining supplier relationships can unlock collaboration
Supplier Management can be a tricky thing to get right.
Although procurement will operate with the best of intentions, it's very easy to create friction with even our best and closest suppliers and partners. And unfortunately, where there is friction, there is a chance that a relationship could falter, or even fail completely.
However, with a bit of imagination and an understanding of the changing supplier marketplace, organisations can create closer and more collaborative relationships with all of their suppliers, not just the 'great' ones. Chief Commercial Officer at HICX, Ragnar Lorentzen, will share his first-hand insights on how to turn this big idea into a reality.
Want to hear more? Join our Big Ideas Summit on March 9. Tickets are on sale now.