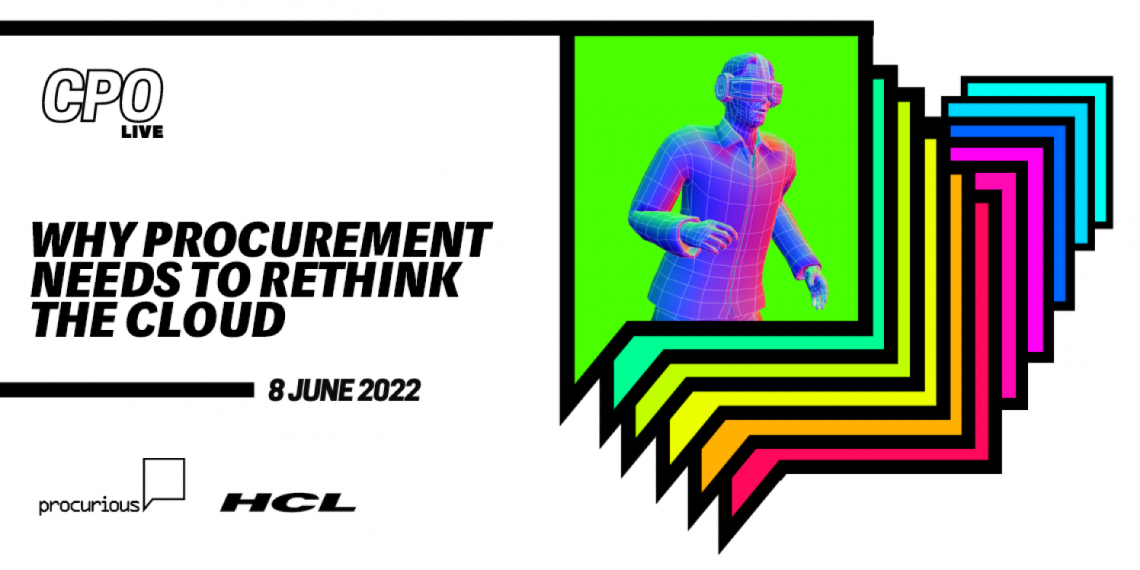 CPO Live: Why Procurement Needs to Re-think the Cloud
Today digital transformation skills are a key requirement for CPOs. As we all well know, there are huge shifts taking place in tech. We are quickly moving away from core data centres to edge and mobile devices, from monolithic to leaner agile applications.
The table stakes are high. Procurement is expected to help deliver cutting-edge solutions at a fast pace and at a low cost.
There's an excellent opportunity to re-skill ourselves, focus on competency development, and take advantage of the digital revolution.
Research reveals that the world invested a whopping 107 billion USD on cloud infrastructure services in 2019. This spend curve will not decline anytime soon since public cloud expenditure is predicted to surpass 500 billion USD in 2023.
The pandemic has accelerated change, with the need to facilitate flexible bandwidth access and sustain remote ops. This has forced companies to rethink their cloud strategies and to let go of their onsite infrastructure and hardware in favour of shifting to the cloud.
This huge bucket of spend didn't even exist a decade ago. What now is procurement's role in harnessing this massive category? What strategies should we put in place to protect our businesses and drive value?
In the second of our CPO Live Roundtable Series, we will explore Why Procurement Needs to Re-think the Cloud.
Our partners at HCL Technologies will help us look at some of the key ways in which the pandemic is redefining enterprise cloud strategies in terms of reach, scale and adoption, and the steps that organisations need to take to successfully reboot.
The topics our speakers will cover:
The current procurement technology landscape - Lance Younger, Founder, Procuretech
Defining Cloud Economics in the Digital Era - Director & Head – Product Management Group, Hybrid Cloud Business Unit - HCL Technologies
The Cloud's carbon footprint - Clare Hobby, Director Purchaser Engagement, Global TCO Development
CloudSmart: Intelligent choices for a resilient and sustainable business - Rohit Upadhyay | Head of Business – Benelux at HCL Technologies
How to solve your European Procurement Tech recruitment problems - Andrew Daley, Founder, Ebury Daley
Please join us on June 8 for this important discussion that could help shape your organisation's - and your own personal - digital transformation journey!
"The only skill that will be important in the 21st century is the skill of learning new skills. Everything else will become obsolete over time." Peter Drucker
Sponsors
The companies that are making this event possible are:

View all sponsors