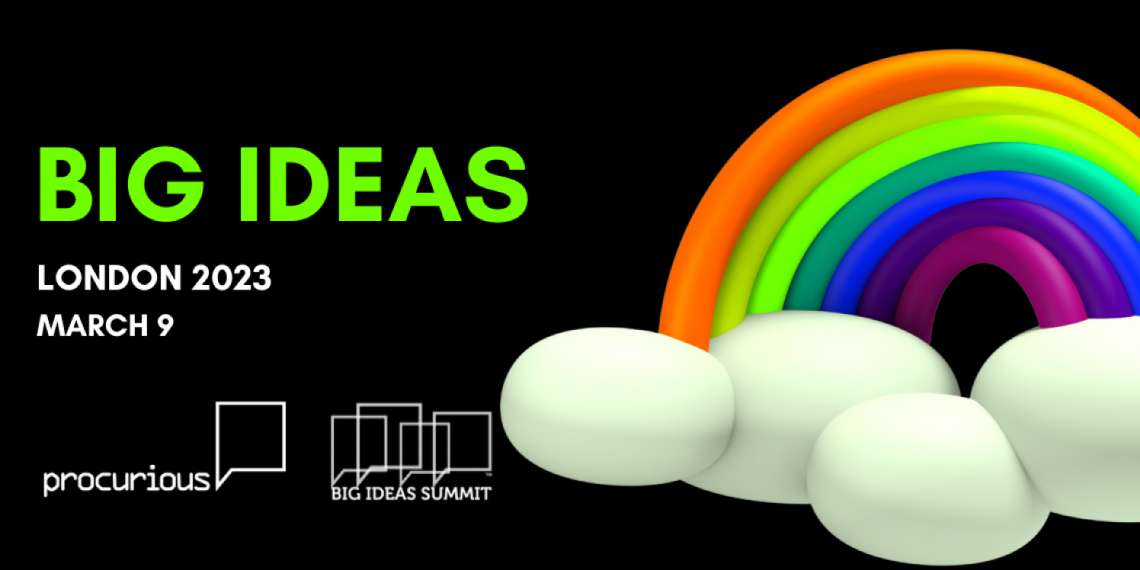 Big Ideas Summit London 2023
It's been three long years since our last in person Big Ideas Summit, and there is a lot to catch up on. (You could be one of the lucky 45 people selected to attend in person at The Soho Hotel, London and to enjoy the after-party!)
Every day we feel the pressure.
If it's not inflation, it's a geopolitical supply chain throttle; if you aren't juggling more contractors than ever, you're under pressure to manage risk while closing deals with higher stakes... Often with less support.
Fortunately, the Big Ideas Summit - the influential global event for procurement and supply chain professionals - is back for another exciting year.
Join us as we come together to share the must-have ideas, plans, experiences, and innovations that we have developed to meet the challenges of yesterday, today, and tomorrow.
Open your mind and dream big as you join your peers from around Europe, and the world; hear the latest insights from global thought leaders; and harness the latest big ideas and practical solutions, including:
Forever Beta: Unlearn the past to reshape the future, Terence Mauri, Founder Hack Future Lab and MIT Entrepreneur Mentor in Residence
Are you ready to Fly like an Eagle? Michael "Eddie The Eagle" Edwards, Britain's First (and Last) Olympics Ski Jumper
Crisis, what crisis? The UK economy after Brexit and Covid, Jonathan Portes, Professor of Economics and Public Policy, King's College London
Net Zero and The World, Dr Cle-Anne Gabriel, Founder, ThinkZero & National Leader Decarbonisation Transformation, KPMG Australia
Surviving as a CPO, Ian Holcroft FCIPS, Procurement Director, J. Murphy and Sons
Get your Talent and Keep your Talent, Darren Peiris, Head of Talent & Capability – International, The Kraft Heinz Company
What is your big idea? Tania Seary, Founder, Procurious, The Faculty, & The Source
Think big and drive real change. Register today.
What are you waiting for?